Watch Video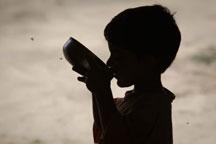 Play Video
A survey by the UN says that Pakistan still needs a billion US dollars in aid to fully recover from the record floods a year ago. One billion dollars has already been provided, following the disaster that killed some 2000 people and displaced 20 million. CCTV correspondent Danial Khan went to meet a family in the Swat Valley who lost everything last July.
Since the devastating floods destroyed his home and hotel in Behrain, sixty three year old Shirin Zada, and his family have been living in a two room makeshift home.
Every morning for the past forty years, Shirin has woken up and headed out to his hotel.
In July 2010, the muddy waters inundated his community of Behrain in Swat.
The river, several kilometers away from his home, was at his doorstep.
Shirin Zada said, "Before I had time to gather anything, I and my family saw the river sweep our home and our lives. I thank God that my children were not hurt."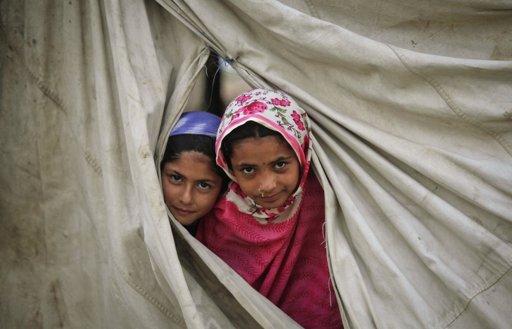 Girls, displaced by heavy floods almost a year ago, look out from their family tent
at a camp for flood victims in Charsadda, in north west Pakistan July 24, 2011.
At an old age, the hard work has been taking an increasingly heavy toll, so for the last 2 years, the help of his son has relieved him of the most strenuous tasks.
He now works at a hotel, on daily wages.
His eldest son Usman, hopes that tourism is revived once again in the valley, so that local people can benefit from it.
Usman Zada said, "We are left with nothing except hope. We are not begging, all we want is tourism to start again so the people here can be encouraged. There is a lot of development and I welcome them as our guests."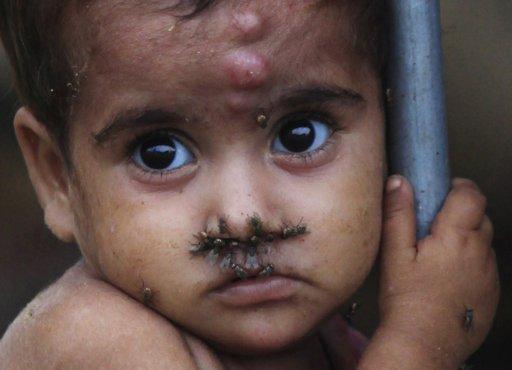 Flies sit on the face of two-year-old Saba Gull, whose family was displaced by heavy
floods almost a year ago, outside her family tent at a camp for flood victims in
Charsadda, in north west Pakistan July 24, 2011.
For a month Shirin, his wife and his family lived with their relatives.
His two younger sons want to stand by their father.
He said, "I'm studying hard so I can become a doctor and give my family a proper home. This is a test of God and I will work hard to get back to our normal life."
Shirin, who used to spend evenings with his family, gets quite depressed when he thinks about the old times.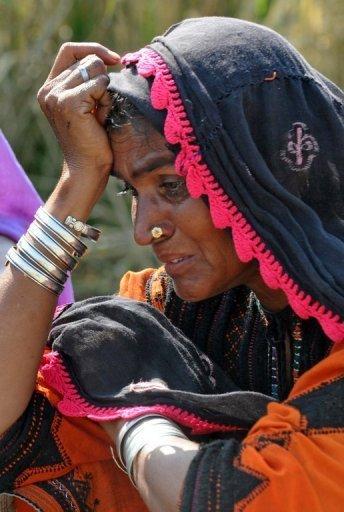 A flood survivor is seen in Sultan Kot, close to the
city of Sukkur which was inundated in Pakistan's worst
floods in history.
He said, "Now when I come back home, all my children are sleeping, I can't sit with them to talk, I will try my best to rebuild everything but in my heart I'm not happy."
Shirin's family is just one of many who have lost everything in floods, their homes and their livelihoods. But they have not lost hope. Every evening there is a special prayer at the flood-hit mosque, a prayer for the ones lost and for the future…
Danial Khan said, "These are a strong and resilient people, they have fallen victim to militancy and natural catastrophes and as Pakistan observes the 1st anniversary of floods, the people of swat pray to God to give them enough strength so they can stand on their feet once again. "
Editor:Zhang Jingya |Source: CNTV.CN