Watch Video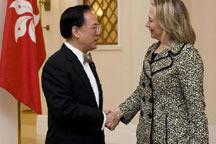 Play Video
US Secretary of State Hillary Clinton has tried to reassure Asian investors over the country's long-term fiscal outlook. Clinton visited Hong Kong on Monday, and met with Chief Executive Donald Tsang. She's the first US Secretary of State to visit the SAR since Hong Kong returned to China in 1997.
Clinton has now arrived in the Chinese mainland city of Shenzhen, and will later fly back to Washington. Addressing business leaders from the region, Clinton tried to play down concerns over US debt, calling on Asian investors to be patient.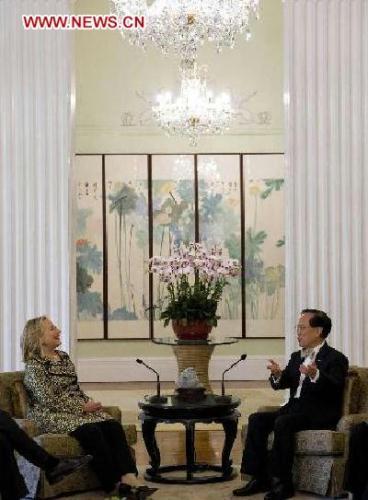 Hong Kong Chief Executive Donald Tsang (R) meets with visiting
U.S. Secretary of State Hillary Clinton in Hong Kong, south China,
July 25, 2011. Hillary Clinton arrived in Hong Kong late Sunday
for an official visit. (Xinhua/Lui Siu Wai)
Hillary Clinton, US Secretary of State said "We in the United States are in the middle of a necessary transition. We must save more and spend less, and we must not only save more and spend less, we must borrow less as well.Our partners must meet this change with changes of their own. There is no way around it: long-term growth requires stronger and broader-based domestic demand in today's high-saving Asian economies. This will raise living standards across the region, create jobs in America, improve business for many in this room and help stabilize the global economy."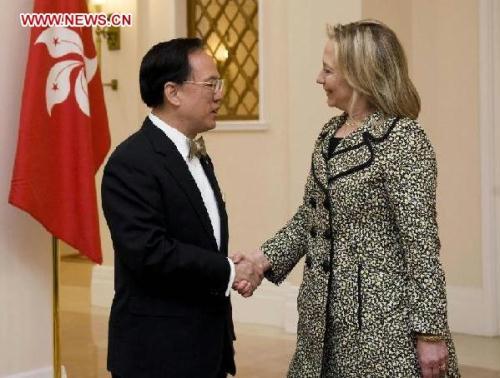 Hong Kong Chief Executive Donald Tsang (L) meets with visiting U.S. Secretary of State
Hillary Clinton in Hong Kong, south China, July 25, 2011. Hillary Clinton arrived in
Hong Kong late Sunday for an official visit. (Xinhua/Lui Siu Wai)
Editor:Xiong Qu |Source: CNTV.CN