Watch Video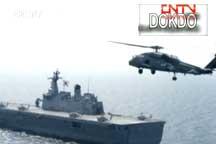 Play Video
Aircraft carriers are not exclusive to military power houses in the western world. In fact, many such flagships can be found in Asia, where developing countries dominate.
After the World War 2, India was the first Asian country to have an aircraft carrier.
The first battleship it owned was called Vikrant, which was bought from Britain in 1961, and retired in 1997.
Vitara, also from Britain, is now serving the country. India purchased the carrier in 1986, together with 12 helicopters.
The 52-year-old Vitara has a full load displacement of 27,800 tons. The Indian Navy is considering to keep it in service till 2020.
In 2004, India signed agreements with Russia, to introduce the converted Admiral Gorshkov by the end of 2012.
Yin Zhuo, military expert, said, "The new Admiral Gorshkov provides India with a great opportunity for aircraft carrier development. The country is now working on two self-developed carriers, which means it will have at least three carriers in service in the future. That means the country's military capacity is almost the same as Italy, or Spain."
Thailand in South Asia currently has one light aircraft carrier.
The flagship, called Chakri Naruebet, was designed and manufactured in Spain. It was ordered in 1992 and launched in 1996.
Chakri Naruebet not only works as a military weapon, but can also help search and rescue when catastrophes happen.
Though having no "real" carriers in hand, Japan and South Korea, two of China's closest neighboring countries, are both planning to have one soon.
Dokdo, the amphibious assault ship of South Korea has a full load displacement of 18-thousand tons, and can hold 10 helicopters.
Yin Zhuo said, "South Korea has been working to have its own aircraft carrier over the past ten years. Based on the amphibious assault ship that it owns, the country is very likely to have a carrier in the near future. "
Hyuga, Japan's amphibious assault ship has a very broad deck which allows four helicopters to take off at the same time.
Editor:Liu Fang |Source: CNTV.CN