Watch Video
Play Video
Since the Gulf War in 1991 until the recent war in Libya, aircraft carriers have played a critical role. Hence some associate the aircraft carrier with a national attack strategy. But analysts say that a country's possession of an aircraft carrier does not necessarily mean the offensive strategy of the country.
Within one hour of Iraq invading Kuwait, 2 aircraft-carrier groups from the US headed to the Gulf region, providing an important military base for armies from 34 countries, who came on January 16th, 1991. After 42 days of air strikes and 100 hours of land battles, Iraq finally accepted the United Nations Security Council Resolution 660, and retreated from Kuwait.
An aircraft carrier was also deployed in the recent war in Libya. French aircraft carrier Charles de Gaulle R91 carried over a thousand servicemen and dozens of shipborne fighters, and headed for Libya on March 20th, 2011. The aircraft carrier went into Libya, participating in patrol and air strikes. It acted as a front line command center with radar, communication equipment and Link 16 systems. It coordinated the combating of fighting jets from other countries including the UK, Canada and Norway.
The undated photo shows the imported aircraft carrier body is refitted. China's Defense
Ministry said on Wednesday that the country is making use of an imported aircraft carrier
body for refitting to be used for scientific research, experiment and training. (Xinhua)
Yin Zhuo, military expert, said, "An aircraft carrier is just equipment. It can carry out defensive strategy, and a country can have an attack strategy without an aircraft-carrier. A country's political factors decide its strategy. The Iraq War, Kosovo War and the recent Libyan War share the same mode, imposing a country's political will upon other countries by force, including the use of its aircraft-carrier."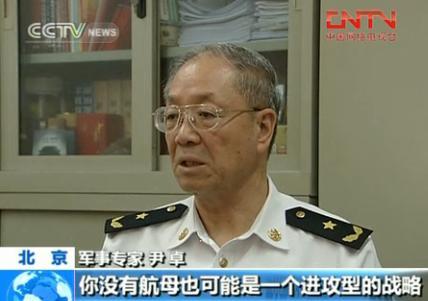 Military expert Yin Zhuo, during interview with CCTV
The expert also points out, China always adheres to the independent foreign policy of peace. Even if China possesses an aircraft carrier, it won't impose its political will and ideology on other nations as determined by the nature of its foreign policy.
Related stories
Editor:Liu Fang |Source: CNTV.CN