Watch Video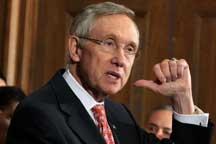 Play Video
The US House of Representatives has voted to reject the debt ceiling plan put forward by Democratic Senate leader Harry Reid. This adds fresh uncertainty to the debt talks gridlock.
The House voted down the measure to lift the debt limit by 2.4 trillion dollars and cut spending by 2.2 trillion dollars over a decade.
In a similar move, 43 Republican Senators said they opposed the Reid debt ceiling plan, saying it failed to alter the spending trajectory that is putting the US economy and national security at risk.
The federal government's borrowing limit, currently at 14.29 trillion dollars, was reached on May 16. The Treasury Department says the nation will begin to default on its debts unless the Congress agrees to lift the limit by Augus the second.
Top congressional leaders and the White House now have little time to work out a deal that can pass both chambers of Congress and be signed by President Barack Obama before the Tuesday deadline.
House Democrats said they would put aside their resistance to legislation that makes deep spending cuts and back the Senate measure in a show of strength that could improve Reid's leverage in negotiations.
Past debt ceiling increases have been routine, but Republicans, citing the giant US deficit, have demanded huge spending cuts as a condition for approving any increase.
No agreement could inflict significant damage on the economy, causing interest rates to rise and financial markets to sink.
Editor:Liu Fang |Source: CNTV.CN