Watch Video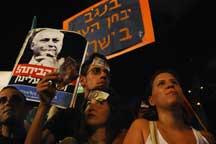 Play Video
Tens of thousands of Israelis have taken to the streets across the country to protest against rising housing prices. Saturday night's protests saw the largest turnout since the grassroots demonstrations began two weeks ago.
Protesters fed up with high living costs marched nation-wide to demand economic reform. The growing demonstrations pose a major challenge for Prime Minister Benjamin Netanyahu.
Police said over 60 thousand people demonstrated in Tel Aviv, Haifa, Jerusalem, and seven other cities, in what local media dubbed an uprising of Israel's middle class.
Omri Evron, protester, said, "I am here with many other thousands of Israelis to protest against the neo-liberal capitalist government of Bibi Netanyahu that is choking working class and middle class families, and young people and old people. Jews and Arabs, are choking under economic burden."
The average Israeli salary stands at about 25-hundred US dollars per month, with key professions like teachers, civil servants and social workers typically earning less than 2-thousand dollars a month.
In central Jerusalem, over 7-thousand protesters marched to Netanyahu's residence, calling for the return of the "power to the workers".
Tom Maayan, protester, said, "People who contribute to the state, go to the army, fight, pay ridiculously high taxes, can't make ends meet, can't afford a normal, standard, one-bedroom apartment."
Meanwhile, housing reforms announced by Netanyahu did not quell the protests which began two weeks ago when activists pitched tents along a Tel Aviv avenue demanding lower rent and land-ownership prices.
Home prices jumped some 35 percent between December 2007 and August 2010 and rental rates have also risen steadily. Rent on a modest three-bedroom apartment in central Jerusalem can cost more than 1,000 US dollar per month and costs even more in Tel Aviv.
A standard, 100-square-meter apartment can easily top 600-thousand dollars in metropolitan centers like Tel Aviv and Jerusalem, and 200-300 thousand dollars in second-tier areas.
Editor:Liu Fang |Source: CNTV.CN