Watch Video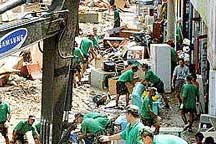 Play Video
South Korea is struggling to cope after the worst rainfall in decades triggered landslides and flooding. Residents in the worst affected areas are worried and scared as the disaster claimed 62 lives with 9 still missing.
Restoration efforts are going on in areas near Mount Umyeon, the hardest-hit part of Seoul. Now residents have started to return home.
Lee Haedong, recalled the moment the landslide occurred.
Lee Haedong said, "We were getting ready to go to work as usual on that day when my son rushed out of his room, shouting dodge, dad. We could see only dark clouds of dust, rocks twigs and floodwater gushing to our house. We hurried to a safer place in the other part of the house."
Living on higher floors, the Lees escaped from the frontal impact of the landslide. But he said the main reasons of this disaster was that there were no deep-rooted trees on Mount Umyeon, which do not absorb much water.
And he hopes the effects of the disaster can be quickly overcome.
Lee Haedong said, "Just as you can see, if another spell of heavy rain comes, nothing can dispel our worries and fright despite the trees and the defense works under construction outside."
A firefighting officer in the area says the defense work began Saturday morning to protect passers-by and weaken the impact of any potential landslides.
The national weather agency says Seoul received more than 300 millimeters of rain on Wednesday, the largest single-day in July since records began in 1907.
And the downpour had left more than 11 thousand people homeless and flooded 978 hectares of farmland across the country.
Editor:Liu Fang |Source: CNTV.CN