Watch Video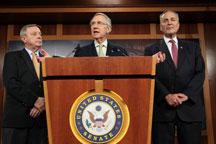 Play Video
The US Senate has defeated a Democratic proposal to raise the debt ceiling, but lawmakers say they are closing in on a deal that would be acceptable to both parties.
Under normal Senate rules, a final vote on any deal could be delayed until Wednesday, one day after the deadline set by the Treasury to ensure the US does not default on its obligations.
By a vote of 50 to 49, Senate Majority Leader Harry Reid's plan fell short of the 60 votes needed to advance in the 100-member body.
The outcome of the symbolic test vote in an unusual Sunday session did not affect the broader ongoing effort of both parties, including the White House, to come up with a compromise.
Several top US lawmakers showed cautious optimism Sunday that a bipartisan deal to raise the nation's borrowing capacity is within reach.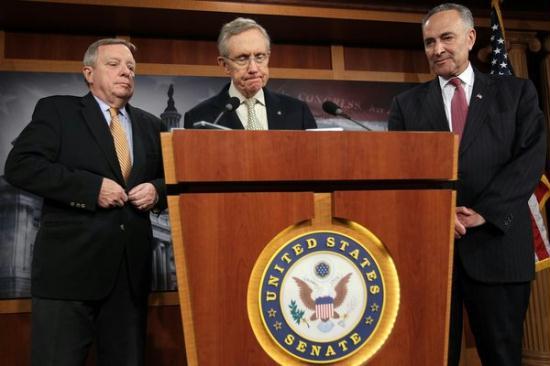 WASHINGTON - JULY 29: U.S. Senate Majority Leader Sen. Harry Reid (D-NV) (C), Senate Majority Whip Sen. Richard Durbin (D-IL) (L) and Sen. Charles Schumer (D-NY) pause during a news conference after a vote on the Boehner bill at the Senate floor July 29, 2011 at the Capitol in Washington, DC. The Senate has defeated U.S. Speaker of the House Rep. John Boehner's (R-OH) Budget Control Act by a vote of 59-41. (Photo by Alex Wong/Getty Images)
Mitch Mcconnell, Republican, US Senate Minority leader, said, "Well, I'm sure there will be both Democrats and Republicans who, in the end, find the agreement wanting in one way or another. But I believe there will be a strong bipartisan support for this. Again, this deal has not been finalised yet, but I think we are very, very close to something that I could comfortably recommend to my members, and I believe the Democratic leadership will be doing the same."
But the White House cautioned that the details of an agreement still had not been sorted.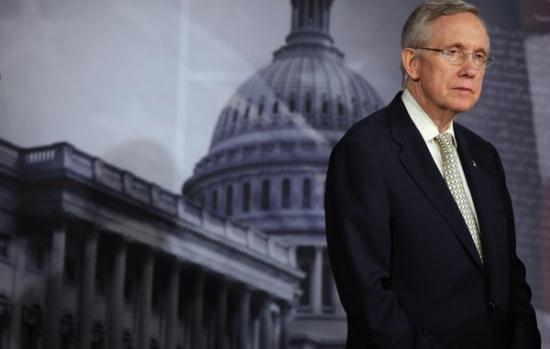 WASHINGTON, DC - JULY 29: Senate Majority Leader Harry Reid (D-NV) holds a news conference after the Senate voted to table the Budget Control Act after it was passed by the House of Representatives at the U.S. Capitol July 29, 2011 in Washington, DC. Reid accused the Republicans in the Senate of refusing to negotiate compromise legislation and pledged to move forward with his own plan to fix the debt ceiling and budget crisis. (Photo by Chip Somodevilla/Getty Images)
David Plouffe, Senior White House Adviser, said, "We don't have a deal. The hours are ticking here. I think what's clear here is that there is general agreement that we're going to have deficit reduction in two stages."
The two-stage deal, negotiated late Saturday night, would raise the nation's debt limit by about 2.4 trillion US Dollars and spending would be cut by a slightly larger amount.
The first stage - about 1 trillion US Dollars - would take place immediately and the second stage would come later in the year.
Without a compromise in place by Tuesday, administration officials say the Treasury will run out of funds to pay all the nation's bills.
The subsequent default could prove catastrophic for the US economy by causing interest rates to rise, and financial markets to sink, sending shock waves around the world.
Editor:Zhang Jingya |Source: CNTV.CN