Watch Video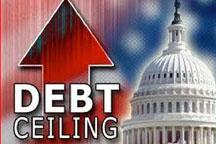 Play Video
Should the US default on its debt on August 2nd, it wouldn't be the first time.
The U.S. Treasury Department says Congress has raised the country's debt ceiling 78 times since 1960, which was once every eight months on average.
Since Barrack Obama was sworn in as US president in January 2009, the Congress has hoisted the limit three times, by a total of nearly 2.98 trillion dollars.
Obama has said several times failure to reach agreement in the current debate will result in the country's first ever debt default. But there are two "suspected" debt defaults since the debt ceiling system was established in 1917.
One took place in 1933, when Franklin Roosevelt was president. At that time, U.S. bonds were pegged with gold, but the U.S. Congress was forced to pass legislation allowing use of bank notes to repay the debt, as the government was unable to use gold to repay its First World War debts, which encountered protests by creditors.
Another was in 1979, a short-term "technical default" due to a government mistake that caused a delayed payment of the interest of some bonds.
The Democrats are blaming Obama's predecessor, George W. Bush, for the gigantic scale of debts, due to his tax cuts, and the wars in Afghanistan and Iraq. Under 8 years of Bush, the US national debt went up 5 trillion dollars. And the debt increased by another 4 trillion in two and half years of Obama's presidency.
Editor:Zhang Jingya |Source: CNTV.CN