Watch Video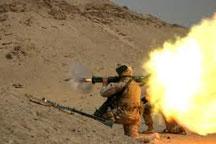 Play Video
It seems that justice for thousands of Colombians may finally come. The Colombian government passed a Victim's Law this past month , that allows for the restitution of land for more than 400,000 victims who've been displaced by internal conflict. The South American nation has been through an armed conflict for the past 4 decades, in which millions have sought refuge and thousands killed.
It was a day that will go down in history for the Colombian people. President Juan Manuel Santos announced the passing of a law that will bring some of sort of justice to victims of the 40-year-old armed conflict in Colombia.
He said, "We have had victims, and continue to have more victims. But we are finally going to stand where we should be; on their side, embracing them, along with their suffering."
The Victim's Law, as it is called, assures the restitution of land to more than 400 thousand victims. Official government numbers state 2 million hectares were obtained by armed groups through violence and fraud. Another 4 million hectares were stolen, after Colombians who feared for their lives abandoned their homes.
With the law, any person displaced after 1985 has the right to claim rightful ownership and receive economic reparations. In some cases armed groups no longer own the lands and have passed it on to unaware companies. The law offers compensation but above all upholds the displaced persons rights. This is something the co-author of the law, Gillermo Rivera believes makes it historical.
He said, " This law establishes presumption of innocence in favor of the displaced. I believe it has absolute guarantees that this process will be successful."
But the law doesn't come without its challenges. It is said implementation of the law could take a decade. And the cost could total 20 billion us dollars, a sum that the government does not have. But what most worries officials and victims are violent repercussions of the restitution. Some lands are still owned by armed groups. Even companies are known to hire paramilitary groups to intimidate victims who hope to reclaim their lands. But the Minister of Agriculture, Juan Camilo Restrepo, believes the threat of violence cannot intimidate the important advances the law hopes to make.
He said, " We are not going to fall in this trap; where armed groups will use violence to terrorize, or make the government and the people go back and not move forward with the process of land restitution."
The armed conflict is far from over in Colombia and the Victims law recognizes this. Future victims of displacement, up to the year 2021, are covered under the initiative. According to the advocacy group, Refugees International, there are more than 20,000 people who have been forced off their lands during the first four months of 2011. 10 land rights advocates have been killed this year alone. However the Victim's law still hopes to make huge strides towards justice.
Related stories
Editor:Zhang Jingya |Source: CNTV.CN