Watch Video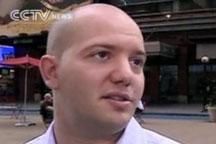 Play Video
US lawmakers have passed the bill to raise the debt ceiling and avert a default.
The headlines at U.S. newsstands say it all.
"Uneasy House OK's Debt Deal"
"Tea Party sees no Triumph in Compromise"
"Debt Deal: Now What?"
That's the questions being asked by skeptical Americans in New York's Times Square.
The agreement made in Washington to cut more than $2 trillion in spending and raise the amount the U.S. government can borrow, is getting far from a resounding thumbs up from average citizens.
New York tourist John said, "If they didn't it would be like the economy having a stroke, so you can't let that happen, so unfortunately you have to raise it a little. Hopefully, they restructure the tax-code completely in the next seven or eight years."
New York tourist Mike said, "It's a band-aid, in my opinion, yeah. But I don't think they could have come to anything given the time they left themselves. I don't think they could have done any better."
New Jersy commuter peter said, "It's just a joke. Nothing's going to stop them from spending money. All the money that they're spending equates to votes for them, so why would they."
Clearly, some are not happy. And, the U.S. debt clock will continue to tick-tock, with the debt ceiling now ready to be lifted beyond the current $14.3 trillion.
Editor:Zhang Jingya |Source: CNTV.CN