Watch Video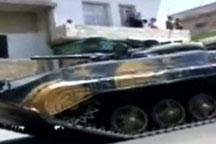 Play Video
In Syria, government forces have advanced into the central city of Hama, taking up new positions in a residential area a day after government forces killed 24 people across the country on the first day of the Muslim holy month of Ramadan.
Tanks pounded residential neighborhoods across Hama, the scene of a 1982 massacre, after evening prayers on Monday, the first day of Ramadan, the Muslim fasting month.
State News Agency SANA said hundreds of masked gunmen on motorbikes had set fire to the main law court in Hama on Monday afternoon, and had also vandalized much of the building.
The London-based Syrian Observatory for Human Rights said most of Monday's deaths were in Hama, which has been the target of a heavy military operation since Sunday.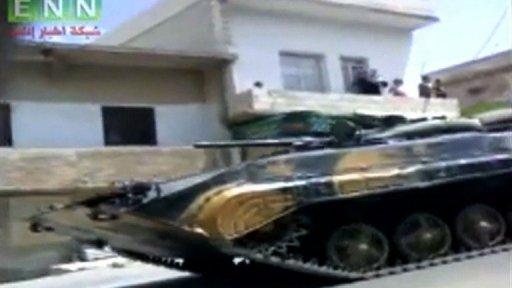 Syrian troops backed by tanks swept into new villages in the northwestern province
of Idlib last week, a rights activist told AFP in Nicosia. This is a raw feed taken
from YouTube.
Meanwhile, amateur videos showed protesters in different Syrian cities took to the streets at night after Trawih prayers, an evening ritual during the holy month of Ramadan, chanting slogans against the Syrian government.
10 protesters were killed during Monday's crackdown in Hama, and the Syrian Observatory said 3 protesters were killed in Homs, and six were killed in the Damascus suburb of Arbeen.
The current crackdown appears aimed at preventing protests from swelling during Ramadan, when Muslim throng mosques for the special nightly prayers after breaking their dawn-to-dusk fast.
Until now, about 1,700 civilians have been killed since the largely peaceful protests against President Bashar al-Assad's regime began in mid-March.
Editor:Zhang Jingya |Source: CNTV.CN