Watch Video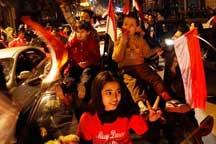 Play Video
The trial of former Egyptian President, Hosni Mubarak, is about to begin. Mubarak is accused of being involved in the killing of protestors during the revolution which broke out in January.
In only hours, Former President Mubarak, his two sons Gamal and Alaa, Former Interior Minister Habib Al Adly and six of his Ministry's leaders will go on trial. They are accused of premeditated murder of protestors during the 25th of January revolution. It will be the first time for President Mubarak to stand behind bars since he was detained in Sharm EL Sheikh hospital. It will also be his first meeting with his sons. Many concerns surround this trial.
A local resident said, "It doesn't matter how Mubarak is tried. He's dying anyways. What will he be sentenced to? A month, a year, he will die in both cases. It is the people involved around him that matter the most."
"Of course problems will happen if he doesn't go to trial because everyone wants him to. But with all due respect I believe that he shouldn't go to trial. For 30 years we were comfortable, we could eat, we could drink, we had dinner. Today we go to bed without dinner," said a local resident.
Local resident said, "Will all martyrs' families be able to enter and witness the accused behind bars? Can the judge give a fair trial while his court is in the police academy, while its leaders are the killers of the martyrs. Can he be just in these conditions? I hope so."
At a press conference, the court announced that the trial will be broadcast on air through the Egyptian National television. And only 600 (hundred) people will be allowed to enter the courtroom. Among those are the defense team, family members and authorized journalists and reporters. No cameras nor cellphones will be allowed in the trial.
To satisfy protestors' demands, the trial will be held on a daily basis until the court reaches a verdict, unlike any regular trial in Egyptian courts that could take years.
This will be the first of a series of trials that President Mubarak will face. After 30 years in power, the ruler of Egypt is also accused of Abuse of Power, Profiting from public money and selling natural gas to Israel cheaper than the international prices.
This place was once called the Mubarak Police Academy. It was within these walls that tens of thousands of Police officers got trained and swore loyalty to their Higher leader President Mubarak. In this same place President Mubarak would stand behind bars and becomes the first President in the region's modern history to be tried by his people.
Editor:Liu Fang |Source: CNTV.CN