Watch Video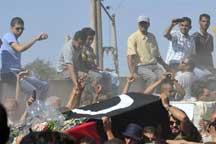 Play Video
Seven rebels have been killed and 50 others wounded in a fight against Muammar Gaddafi's forces in Zlitan.
The fighting was still ongoing in the town, a stronghold used by government troops to block the rebel forces' advance towards the capital Tripoli, which is about 130 kilometers away.
Meanwhile, NATO commanders have announced that air strikes against targets in Libya will not be halted during Ramadan, and may even be extended.
Col. Roland Lavote, spokesman of NATO Operation Unified Protector, said, "As long as there are attacks, threats of attacks and incitements of violence against civilians, NATO will act to protect them. This is not a matter of religion, ethnicity or culture but a commitment derived from a United Nations Security Council resolution in order to protect innocent victims. Some including the Gaddafi regime suggested that NATO should pause and stop enforcing the UN resolution during Ramadan. To be effective, the cease-fire would require a complete cessation of violence from Gaddafi forces."
Editor:Liu Fang |Source: CNTV.CN