Watch Video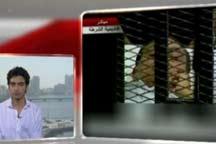 Play Video
The trial of Egypt's former President, Hosni Mubarak, has started in Cairo. Mubarak was forced to leave power in February after massive protests and violence. And we will now bring you live to Cairo where the fallen leader appears in court. Full Story>>
To talk more about Mubarak's trial, we now cross to our correspondent in Cairo, Adel El-Mahrouk.
Q1, It's now 5 months since Hosni Mubarak, who ran Egypt for 30 years, was deposed and now he's appeared in court in Cairo. What have been the highlights of the trial?
Q2, Tell us more about the reaction within the country. Has the military responded, and what does the public think?
Editor:Zhang Ning |Source: CNTV.CN