Watch Video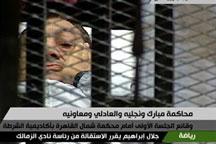 Play Video
Egypt's former President Hosni Mubarak has pleaded innocent to charges of corruption and complicity in the killing of protesters who toppled his government.
During Wednesday's historic trial, Mubarak lay in a cage on a hospital bed, a sheet pulled up to his chest. He has denied the accusations against him.
Judge: "You have heard the charges brought to you by the public Prosecution. What do you say?"
Mubarak: "I deny all these accusations completely."
The spectacle, aired live on state television, was the biggest humiliation for Egypt's former president since his ousting nearly six months ago after 18 days of unrest.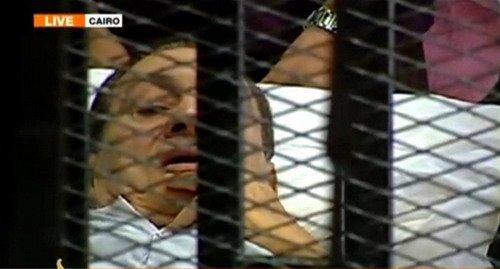 The trial of Egypt's former President, Hosni Mubarak, has started in Cairo.
It was the first time Egyptians have seen Mubarak since February the 10th, when he gave a defiant TV address refusing to resign.
Mubarak is charged with being an accomplice along with his then-interior minister in the intentional and premeditated murder of peaceful protesters.
He and his sons are also accused of receiving gifts from a prominent businessman in return for guaranteeing him a lowered price in a land deal with the state.
The judge trying Mubarak says the court will reconvene to hear the case of the former president on August 15th.
He adds Mubarak will be moved from a hospital on the Red Sea to one near Cairo.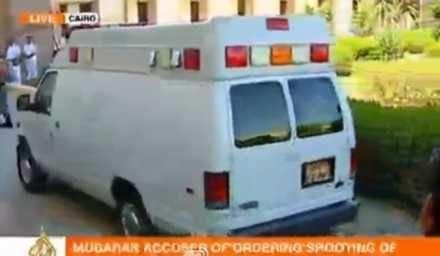 Mubarak has been hospitalized in Sharm el-Sheikh since April when he was
first questioned.
Cross over: Highlights of Mubarak's trial
It's now 5 months since Hosni Mubarak, who ran Egypt for 30 years, was deposed and now he's appeared in court in Cairo. What have been the highlights of the trial? Full Story>>
Studio interview: Will trial solve Egypt's problems?
Mubarak has appeared in court, lying on a stretcher, in a cage. Many Egyptians have high expectations for the trial, but some say it cannot solve Egypt's problems. What do you think this trial means for Egypt? Full Story>>
Cross over: Significanca of Mubarak trial
Egypt's army has removed the tents of protesters from Tahrir Square in downtown Cairo ahead of the upcoming trial of former President, Hosni Mubarak. The military forces urged all the protesters who have been camping out in the square for nearly 4 weeks to leave. Full story >>
Plane to carry Mubarak to Cairo lands in Sharm El-Sheikh
A plane that will carry former President Hosni Mubarak to Egyptian capital Cairo where he stands trial landed in Sharm el Sheikh late Tuesday, local security and medical sources said. Full story >>
Egypt's ex-President Mubarak denies ordering of crackdown
Egypt's ex-President Hosni Mubarak has told interrogators he didn't order security forces to open fire on protesters during the 18-days unrest that ended with his removal from office. Meanwhile, demonstrators continue to voice their demands for Prime Minister Essam Sharaf to resign. Full story >>
Mubarak's mental state deteriorating
There has been much speculation over the past few months concerning Hosni Mubarak's medical condition. He has been treated for a heart condition and his lawyer insists the former president is seriously ill. Full Story>>
Egypt celebrates Mubarak resignation
Egyptians have poured onto the streets to celebrate the news that President Hosni Mubarak has stood down. Full story >>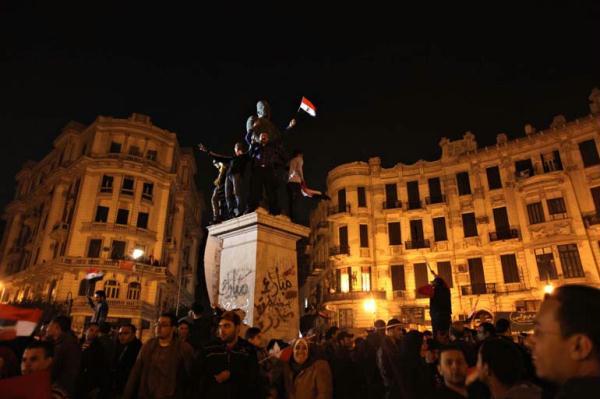 Egyptians have poured onto the streets to celebrate the news that President Hosni Mubarak has stood down.
Last 18 days of Mubarak in power
Hosni Mubarak ruled Egypt for 30 years. However it only took 18 days to end his political life. On January 25th, thousands of Egyptians took to the streets of cities like Cairo and Alexandria. Coordinating their actions over the internet, as many as 90-thousand people expressed a willingness to take action to end the country's poverty, corruption and unemployment. Full story >>
Background information on Mubarak's political life
Hosni Mubarak, Egyptian president from 1981 to 2011, ruled the country for 30 years. His period in power was the longest in the last 150 year of Egyptian history. A controversial figure, with many supporters and detractors, he was finally forced from office after large-scale anti-government demonstrations this year. Full Story>>
Profile: Egyptian President Hosni Mubarak
Egyptian President Hosni Mubarak said in a televised speech on Thursday night that he will hand over power to Vice President Omar Suleiman, but will not resign, in response to more than two weeks of mass protests against his 30- year rule. Full story >>
Editor:Zhang Jingya |Source: CNTV.CN