Watch Video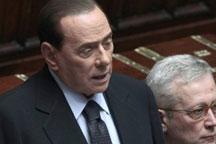 Play Video
Italy's Prime Minister Silvio Berlusconi has pledged that economic growth will be his government's key policy aim. He has also vowed to complete his five-year mandate to ensure stability.
Berlusconi made the comments on Wednesday in response to the growing turbulence in financial markets, which has sent yields on Italian bonds to new 14-year highs. The investors are worried that Italy could be dragged into a financial crisis similar to Greece's.
It's the height of summer in Rome, and Italy is sweltering in the heat of economic difficulties.
Investors who are worried about the financial woes facing Italy, have rushed to sell Italian bonds, sending the market borrowing rates to a record high.
After a volatile day on the markets, Prime Minister Silvio Berlusconi addressed the lower house of parliament in Rome about the state of the economy.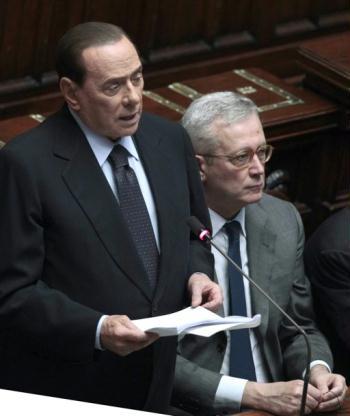 Italian Premier Silvio Berlusconi, left, flanked by
Finance Minister Giulio Tremonti, addresses the
Parliament on the state of the economy in Rome,
Wednesday, Aug. 3, 2011. Berlusconi said economic
growth is his government's key policy aim. After a
volatile day on markets, in which Italian borrowing
rates touched a record high, Berlusconi told parliament
that Italy "has not done little'' in response to the
crisis, but that it needs to do more. (AP Photo/Gregorio
Borgia)
He said, " Let us remind ourselves and others; the country is economically and financially solid. In difficult moments, it knows how to stay together and confront difficulties. The government and parliament will act, I hope, with a large political and social consensus to fight every threat to our financial stability. Today more than ever, we need to act all together."
Berlusconi told parliament that Italy "has not done little" in response to the crisis, adding that the country needs to promote competitiveness and growth.
Berlusconi said that the 70 billion euros in austerity measures passed last month will balance the budget by 2014. He emphasized that 9 billion euros for infrastructure projects mostly in the poorer south approved earlier Wednesday will help promote growth.
He also said that Italian banks remain solid and investors who have pushed up Italy's borrowing rates do not recognize the country's fundamental strengths: a stable banking system, low levels of private sector indebtedness and a strong entrepreneurial spirit.
Growing market jitters have intensified opposition calls for Berlusconi's resignation, with center-left leaders claiming there is a lack of international confidence in the Italian leader. But Berlusconi stands firm, saying he will stay in office until his mandate expires in 2013.
Related stories
Editor:Zhang Jingya |Source: CNTV.CN