Watch Video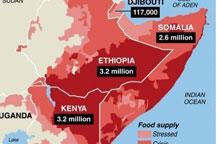 Play Video
According to the World Food Program, the southern and central areas of Ethiopia, Kenya and Somalia have been the hardest hit, with a total of 12.4 million people affected. On Wednesday, the United Nations declared three additional regions in Somalia as famine zones.
The Horn of Africa is experiencing one of its worst droughts in 60 years.
In Somalia, the UN declared three new regions as famine zones on Wednesday, increasing the number of such zones to five where the highest rates of malnutrition and mortality are taking place.
UN data also shows that across Somalia, nearly half of the country's population of 7.5 million are severely affected by the crisis. Among them, 3.2 million are in need of immediate, life-saving assistance.
In one refugee camp bordering Somalia and Ethiopia, hundreds of Somalis are waiting for help from the World Food Program. But the food rations are never enough for them to get by.
Map of the Horn of Africa showing areas affected by the worst drought
in 60 years and the related famine. Relief groups and donors said on
Thursday they are prepared to relieve famine in parts of Somalia held
by Al-Qaeda-inspired Shebab rebels, provided they can be sure aid will
reach those most in need
Somali Refugee Nura Ale said, "The food ration they are giving us for a month barely lasts more than two weeks long with my nine children. I'll have to find other means to sustain the family for the remaining period."
Facing the record drought, the UN and other international organizations are carrying out full-swing relief operations.
The International Red Cross has set up field hospitals at the border of Kenya and Ethiopia, providing medical assistance to children suffering from malnutrition.
A malnourished child from southern Somalia sits on his fathers lap at a camp in
Mogadishu, Somalia, Wednesday, Aug 3, 2011.
John Kiogor, doctor of Dadaab refugee camp in Kenya, said, "What we do here, basically, is admit them and stabilize them and we hope, and I would say these are the lucky ones because there are many who have not been picked from their community and there are a few maybe who have even died before they arrived. Bear in mind that there are new arrivals especially who are coming from Somalia."
According to the World Food Program, for the newly arrived children under five, the malnutrition rate has reached 50 percent. This is a significantly higher level than what is usually deemed an emergency.
Editor:Zhang Jingya |Source: CNTV.CN