Watch Video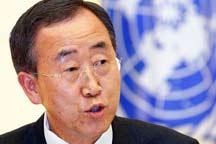 Play Video
Activists say Syrian security forces have shot dead six people taking part in anti-regime protests after special nighttime Ramadan prayers. The latest killings come as telephone and communication lines remained cut with the restive central city of Hama. The UN Security Council has condemned Syrian authorities for the use of force against civilians and calls on all parties to put an end to the violence.
The statement calls on Syrian authorities to fully respect human rights and comply with international law. The Security Council expressed "profound regret" for the estimated 1,700 deaths since mid-March. The statement says those responsible for the violence should be held accountable. Although Syrian President Bashar al-Assad has promised reforms, the Council noted "the lack of progress" in implementing them and called on the president to keep his word.
UN Secretary General Ban Ki-Moon said, "I again urge President Assad - please listen more attentively. There have been many calls from the international community, including from myself, that just continuing like this is not sustainable, and that he cannot, and they cannot, continue like this, killing their people."
Editor:Zhang Ning |Source: CNTV.CN