Watch Video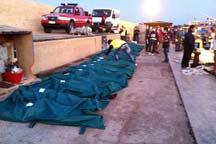 Play Video
The southern Italian island of Lampedusa has been inundated by many refugees fleeing unrest from North Africa. On Monday, 25 bodies were recovered from a wrecked ship from war-torn Libya crammed with more than 270 refugees.
Lampedusa is renowned as a tourist destination, but this year the island has seen more people arrive seeking asylum, rather than a vacation.
Of the victims from Monday's shipwreck, six were buried in a cemetery on the island. Authorities have neither determined their names nor nationalities.
All that is left are makeshift crosses above their graves marking the date they perished.
At the other end of the cemetery are graves of refugees who died in previous ill-fated voyages. The dates on their tombstones are hardly recognizable.
Local resident of Lampedusa, Italy,said, "All these deaths happened years ago, some dating back as far as 20 years ago. The refugees were left on the island. No one knows them or anything about them, because when they arrived, they didn't bring any identification."
Monday's wrecked ship was only 15 meters long, but it carried over 270 refugees.
Initial reports speculate that the refugees died of suffocation in the engine room of the overcrowded boat.
The vessel set sail on July 30th from Libya. Two other boats departing the same time are still missing, and the fate of the over 400 people they carried remains unknown.
Each year, many refugees board ships seeking asylum in Europe via Lampedusa island, which is located closer to north Africa than the Italian mainland. They flee wars, hunger, and poverty, but the risky voyages often end in tragedy at sea.
On Tuesday, another boat packed with 330 migrants from Libya arrived on Lampedusa, marking the latest in a long line of immigrant ships.
Related stories
Editor:Zhang Ning |Source: CNTV.CN