Watch Video
Play Video
The United Nations says the famine-gripping parts of southern Somalia has spread to three new areas of the country, with the entire south likely to be declared a famine zone within the next six weeks.
Drought, conflict and a lack of food aid have left 3.6 million people at risk of starvation in the region. Hundreds of people are continuing to stream into Kenya's Dadaab refugee camp which is already full. Kenya itself is also grappling with the drought in northern and northeastern regions. Its Special Programs Minister, Esther Murugi, on a visit to the camp, says the situation on the ground is harder to control with the influx of Somali refugees, but the government is doing enough.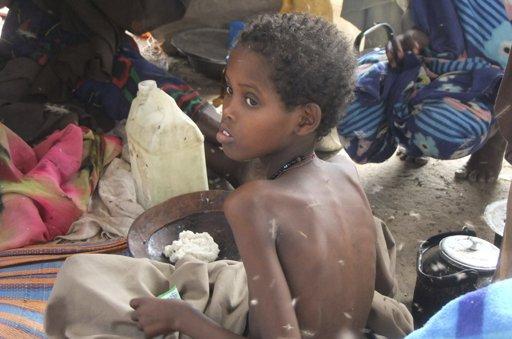 A child from southern Somalia takes food at a camp in Mogadishu, Somalia, Wednesday,
Aug 3, 2011. Thousands of people have arrived in Mogadishu over the past two weeks
seeking assistance and the number is increasing by the day. The worst drought in
the Horn of Africa has sparked a severe food crisis and high malnutrition rates, with
parts of Kenya and Somalia experiencing pre-famine conditions, the United Nations
has said. More than 10 million people are now affected in drought-stricken areas of
Djibouti, Ethiopia, Kenya, Somalia and Uganda and the situation is deteriorating,
(AP Photo/Farah Abdi Warsameh)
Special Programs Minister Esther Murugi said, "We are not struggling but of course we are saying we may also need help because the levels of malnutrition are very high and we are asking the international community to help, they help us to deal with malnutrition because if it is issue to do with maize and beans those we have but the high nutrition food for malnourished children and for mothers is where we really need help."
Editor:Zhang Ning |Source: CNTV.CN