Watch Video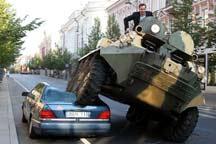 Play Video
The mayor of Lithuania's capital, Vilnius, has used an unconventional method to raise public awareness of illegally parked cars. Arturas Zuokas used an armored vehicle to flatten a Mercedes S-Class, to warn drivers from parking illegally in bike lanes.
The scene was deliberately staged and filmed by a Swedish production crew, which will also air in that country as well. Residents applauded the mayor's efforts, who has made great strides in enabling the city to be more bicycle friendly and has long urged residents to ditch automobiles for bicycling.
In this Tuesday, Aug/ 2, 2011 photo distributed by Vilnius City Municipality press
service, Arturas Zuokas, the 43 year old mayor of Vilnius drives over a car parked
illegally on a main street in Vilnius city center with a military vehicle. The
mayor took the drastic action after becoming infuriated with motorists parking their
luxury cars illegally around the city.(AP Photo/Vilnius City Municipality, HO)
Rasa Razgaitis, advisor to Mayor of Vilnius, said, "Mayor Zuokas wanted to raise public awareness of the illegal parking issue in Vilnius. So he took a tank and took matters into his own hands so that people would get involved, so that they wouldn't walk by and leave things unspoken to or not take any action on it. Small infractions also sometimes lead to larger ones. Be aware of the fact that when you come to Vilnius, please park legally or else the mayor does promise that he'll be back."
Vilnius resident Ferdinandas said, "It's good not to have too many cars in the Old Town. Twenty to fifteen years ago cars had to pay an entrance fee to the Old Town. Now you shouldn't be able to park there."
Vilnius resident Leonas Grazys supported the action
Resident Leonas Grazys said, "This action is necessary. He is the mayor, he understands the real situation in Vilnius and in Lithuania."
Editor:Zhang Ning |Source: CNTV.CN