Watch Video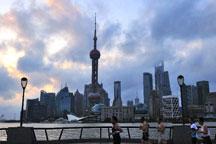 Play Video
As Typhoon Mui-fa draws nearer to east China, one of the possible landfall areas is the country's economic hub Shanghai. Li Zhen reports on how people there are preparing for the powerful storm.
By 8 am Friday local time, Muifa was 910 kilometers off the coast of Shanghai in the East China Sea.
Packing winds of over 160 kilometers per hour, Muifa was steadily moving across the ocean at about 10 to 15 kilometers per hour.
The typhoon is expected to make landfall in northern parts of Zhejiang province either late Saturday night or early Sunday morning.
Zhu Jiehua, Sr. Official of Shanghai Meteorological Bureau, said, "It doesn't matter whether Muifa makes landfall at Zhejiang or Shanghai, the city of Shanghai will be greatly affected, especially over the weekend. Strong winds and heavy rain are likely in Shanghai. There could be up to category 11 winds in the city, while up to category 12 winds along coastal areas. Regions near the Yangtze River and Shanghai's Yangshan Port could also experience gale-force winds."
Forecasters have compared Muifa's impending wrath this weekend to 2005's Typhoon Matsa, which killed four people and caused economic losses of 100 million yuan in Shanghai.
On Friday morning, the Shanghai Meteorological Bureau called on residents to be wary ahead of Muifa's arrival.
Local Resident, Shanghai,"I heard about Typhoon Muifa on the TV news. I think we should stay indoors as much as possible."
Tourist, Shanghai, said,"I am not worried. I'll just try to stay away from high buildings, trees or any temporary buildings."
Tourist, Shanghai, said,"I am not worried. I just hope it won't affect flights too much."
Sang Baoliang, Official, Shanghai fLODD Control, HQ, said, "Coastal districts have already prepared for people's evacuation and provided shelter for ships. There are nearly 100-thousand emergency personnel standing by. Also, we have used the media to explain to the public about the dangers of Muifa and ways to stay safe."
In addition to the local Flood Control Headquarters, Shanghai railway authorities have also established an inspection team to examine the high-speed railway. Some train services may run behind schedule or even be halted if the storm is too severe.
Editor:Zhang Pengfei |Source: CNTV.CN