Watch Video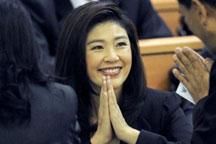 Play Video
Thai lawmakers have officially chosen their first female prime minister. Yingluck Shinawatra sailed through the vote to the surprise of analysts.
They had expected a closer general election, but her Pheu Thai party won an outright majority of 265 of the 500 seats in parliament. However, challenges still remain.
Friday marked the second time that a Shinawatra is on the list of Thailand's Prime Ministers.
The victory seems quite smooth for a woman with just eleven months into her political career.
Yingluck Shinawatra, Newlty-elected PM of Thailand, said, "So we'll try to have the cabinet as soon as possible, because we know that this time people are looking forward to have the new government to solve the problems and continue on the other policies."
To the surprise of analysts, Yingluck's Pheu Thai party won an outright majority in the election, leaving the Democrats of outgoing Prime Minister Abhisit Vejjajiva a distant second with 159.
She will lead a coalition of six parties with a total of 300 seats.
But just as the benefits her family name has brought her, her brother Thaksin Shinawatra's possible return could be one of her biggest challenges. She needs to prove her independence, instead of being overshadowed by his influence. The former Prime minister is in self-imposed exile under a general amnesty. Any return could enrage his opponents and destabilize Thailand.
To do so, she must find a delicate balance between the coup-prone army and elite elements, and moreover the Red-Shirts who helped vote her into office.
Editor:Zhang Pengfei |Source: CNTV.CN