Watch Video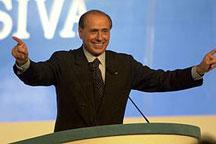 Play Video
Italy has buckled to world pressure in a bid to halt a market rout endangering the global economy. It's pledging to speed up austerity measures and social reforms in return for financial help from the European Central Bank.
Italian Prime Minister Silvio Berlusconi announced on Friday that his government will introduce new measures to reach a balanced budget by 2013, a year ahead of the original schedule.
Silvio Berlusconi, Italian Prime Minister, said, "We have planned an acceleration of the enforcement of the measures approved in the budget law with an anticipation of a balanced budget by 2013, instead of 2014."
Giulio Tremonti, Italian Economy Minister, said, "As far as public finance is concerned, we will put the balanced budget in the constitution and we will work on an earlier balanced budget by 2013. On the economic side we will change the constitution to liberalize the economy. We will ALSO approve a reform of the labor market. We will take other measures such as the acceleration of infrastructure, privatization and all the other topics we have agreed with the unions. But these are the four main pillars."
The Italian government has pledged to work swiftly for a constitutional amendment requiring the government to balance its budget. The Italian decisions came after the European Central Bank had reportedly agreed in principle to buy Italian bonds on secondary markets as early as next week on the condition it brings forward key structural reforms.
The moves followed widespread criticism Italy had failed to act decisively enough to halt a market emergency that has threatened to engulf the entire euro zone and triggered near-panic on financial markets. The yield on 10-year Italian bonds rose briefly to a new 14-year high of 6-point-27 percent on Friday before dropping back.
Editor:Zhang Pengfei |Source: CNTV.CN