Watch Video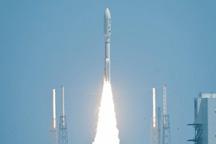 Play Video
NASA has launched a probe on a five-year mission to Jupiter to learn more about the giant planet and how the solar system was formed. It's the first solar-powered mission to venture so far from the Sun.
NASA has launched a robotic explorer to Jupiter. The total mission is costing about one billion US dollars.
The spacecraft, named Juno, blasted off aboard an unmanned rocket Friday from Cape Canaveral.
Juno is solar powered, a first for a spacecraft meant to roam so far from the Sun. It has three huge solar panels that have been folded for launch. Once opened, they should each stretch as long and wide as a tractor-trailer. Previous spacecraft to the outer planets have relied on nuclear energy.
Juno's journey to Jupiter will take five years.It is scheduled to spend one year cycling inside Jupiter's deadly radiation belts, far closer than any previous orbiting spacecraft.
With Juno, scientists hope to answer some of the most fundamental questions about the solar system.
It will learn how much water Jupiter holds, what triggers its vast magnetic fields and whether a solid core lies beneath its dense, hot atmosphere.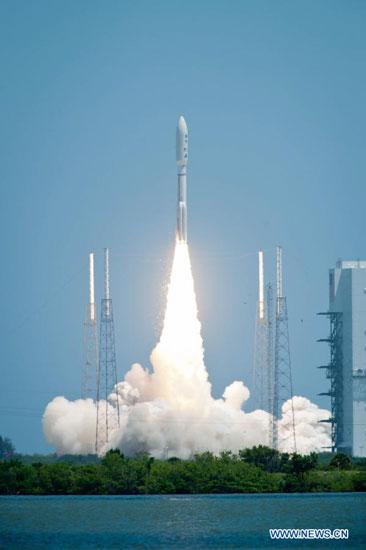 In this photo released by NASA, an Atlas V rocket launches
with the Jupiter-bound Juno spacecraft at Cape Canaveral
Air Force Station in Florida, the United States, Aug. 5,
2011. Juno will arrive at Jupiter in July 2016 and orbit
its poles 33 times to learn more about the gas giant's
interior, atmosphere and aurora. (Xinhua/NASA/Bill Ingalls)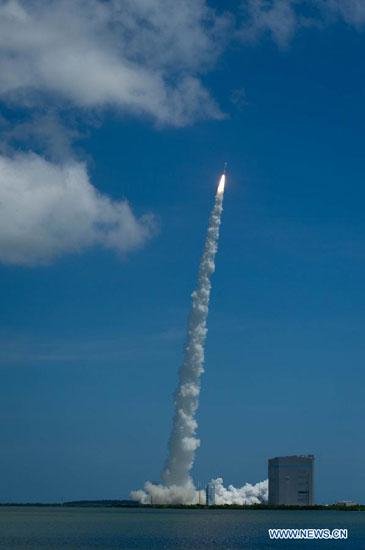 In this photo released by NASA, an Atlas V rocket launches
with the Jupiter-bound Juno spacecraft at Cape Canaveral
Air Force Station in Florida, the United States, Aug. 5,
2011. Juno will arrive at Jupiter in July 2016 and orbit
its poles 33 times to learn more about the gas giant's
interior, atmosphere and aurora. (Xinhua/NASA/Bill Ingalls)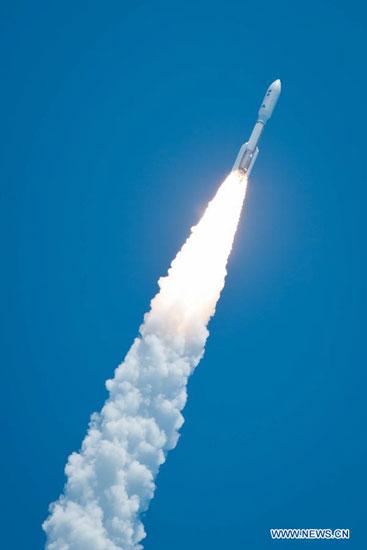 In this photo released by NASA, an Atlas V rocket launches
with the Jupiter-bound Juno spacecraft at Cape Canaveral
Air Force Station in Florida, the United States, Aug. 5,
2011. Juno will arrive at Jupiter in July 2016 and orbit
its poles 33 times to learn more about the gas giant's
interior, atmosphere and aurora. (Xinhua/NASA/Bill Ingalls)
Editor:Zhang Pengfei |Source: CNTV.CN