Watch Video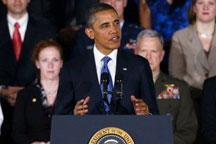 Play Video
US President Barack Obama has hailed the newly released job report as a positive signal for the country's economic growth, but he has also noted the improvement is not enough. He says more jobs will have to be created to improve the unemployment situation in the country.
Barack Obama, US President, said, "While this marks the 17th month in a row of job growth in the private sector, nearly 2.5 million private sector jobs in all. We have to create more jobs than that each month to make up for the more than 8 million jobs that the recession claimed. We need to create a self-sustaining cycle where people are spending and companies are hiring and our economy is growing."
In his speech to American veterans, Obama said his top priority is to jumpstart the nation's job creation and economic growth.Obama pledged that he will ask lawmakers to move quickly on job-creating steps such as extending a payroll tax cut, when the Congress returns to work in September.He assured the Americans that things will get better in the world's largest economy, and called on different sectors to join efforts to create more jobs for the unemployed Americans.
Editor:Zhang Pengfei |Source: CNTV.CN