Watch Video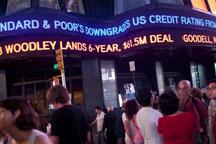 Play Video
As the US grapples with the political and economic fallout of an unprecedented credit downgrade, congressional leaders from the Democratic and Republican parties are rushing to play the blame game.
As the United States awaits the market verdict on Standard & Poor's downgrading of US debt, on Capitol Hill Republicans and Democrats are blaming each other for the move.
On Friday S&P cut the U.S. credit rating by a notch to AA-plus in an unprecedented blow citing concerns about the nation's budget deficits and climbing debt burden. It called the outlook "negative," signaling another downgrade is possible in the next 12 to 18 months.
On NBC's Meet The press Senator John Kerry blamed conservative Tea Party Republicans who would not sign on to any deal that raised taxes.
He said, "I believe this is without question a tea party downgrade. This is the tea party donwgrade because a minority of people in the House of representatives counttered the view of many republicans in the United States Senate "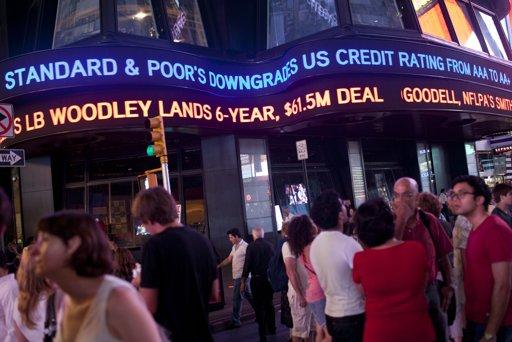 NEW YORK, NY - AUGUST 05: An ABC News ticker reads "Standard & Poor's downgrades US
credit rating from AAA to AA+" in Times Square on August 5, 2011 in New York City.
The ratings agency decided to downgrade the US credit rating after the prolonged
debt-limit debate in the US government. (Photo by Andrew Burton/Getty Images)
On the Republican side, Senator John McCain is pointing to the White House.
He said, "I agree there is dysfunction and a lot of that is to do with the President's failure to lead."
Analysts say the dollar may weaken as a result of the downgrade and U.S. interest rates may move higher when markets reopen. However some of that pressure may be tempered by the escalating crisis in the euro zone.
Editor:Zhang Jingya |Source: CNTV.CN