Watch Video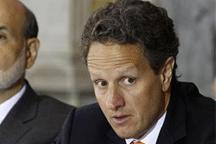 Play Video
US Treasury Secretary Timothy Geithner has criticized Standard-Poor's downgrade of the country's credit rating from Triple A to double A.
He said the agency's decision on Friday was a terribly poor judgment. This is the first time that the US' long-term sovereign credit rating has been removed from the agency's top ratings.
The agency's move came after the US' deficit reduction package fell short of four trillion US dollars, a threshold the S and P's cited as a requirement to avoid a downgrade.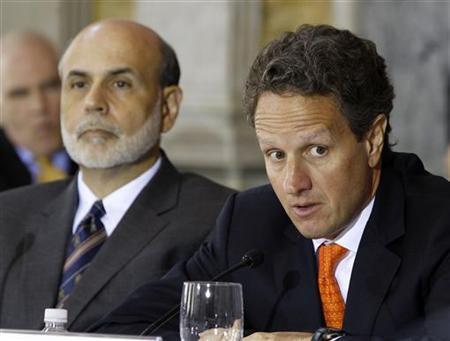 File: U.S. Treasury Secretary Timothy Geithner (R) talks next to Chairman of the Federal Reserve Ben Bernanke (L) at a Financial Stability Oversight Council meeting in the Cash Room in the Treasury Department in Washington, July 18, 2011.
Credit: Reuters/Larry Downing
Geithner has also announced that he has informed President Barack Obama that he will remain on his job, amid rumors that he was considering resignation once a deal was made on raising the US debt limit through 2013.
Editor:Li Wanran |Source: CNTV.CN