Watch Video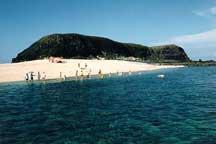 Play Video
Former Japanese Foreign Minister, Seiji Maehara says he hopes Russia will return a set of disputed islands. He made the comment at a press conference on his recent visit to an island Japan calls Etoro-fu. It's one of four Russian-held islands claimed by Japan.
As the first senior Japanese politician to set foot on the island, Maehara was on an unofficial visit and said the infrastructure on Etoro-fu still needs improved. He added the island has much space for further development.
Meanwhile, residents in Nemuro subprefecture, near the disputed islands, said they are not keen on the island disputes because they believe it is an issue for their forefathers not their generation.
The disputed islands are called the Southern Kurils by the Russians and the Northern Territories by the Japanese. They were seized by the Soviet Union following Japan's surrender in World War Two.
Editor:Liu Fang |Source: CNTV.CN