Watch Video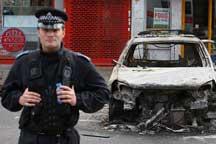 Play Video
British authorities appealed for calm on Sunday, after rioting, looting and multiple fires tore through Tottenham in north London. Police are monitoring social networks to prevent a repeat of the violence.
A peaceful protest turned deadly.
On Sunday, residents in London's Tottenham district were lamenting the death of Mark Duggan, a young man killed after an exchange of gunfire with police on Thursday.
But the situation lost control as angry crowds threw bottles, looted buildings and torched cars.
26 police officers were injured, with eight hospitalized. And 42 people were arrested.
The area at the center of the violence has now been sealed off as police attempt to restore order.
Commander Adrian Hanstock, metropolitan police, said, "Once we saw that situation develop, we deployed people appropriately and eventually took control this morning in the early hours. Today is about restoring calm and bringing peace back to Tottenham."
Some residents link the violence to anger over Britain's poor economic performance, saying they are living amid deep public spending cuts and tax rises. Others question police behavior in the death of Mark Duggan.
A local resident said, "It is a combination of anger bubbling over from the events that took place on Thursday when this young man with a family was basically gunned down by police, in combination with the fact that there were a number of people from outside of the community who were intent on causing trouble and disruption and mayhem together with local people from the area caused what happened last night."
Tottenham has a large number of ethnic minorities and includes areas with the highest unemployment rates in London.
It was the site of the 1985 Broadwater Farm riots, which led to the savaging stabbing of a police officer and the wounding of 60 others.
Since then relations between local residents and police have been improved, but many believe the mistrust still lingers.
Editor:Liu Fang |Source: CNTV.CN