Watch Video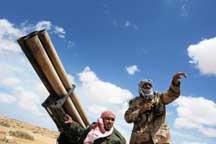 Play Video
Libyan rebels say they are firmly in control of the town of Bir al-Ghanam, a staging post about 80 kilometers south of Tripoli, rejecting a government claim they had been pushed back.
The rebels have launched a new offensive out of their stronghold in Libya's western mountains, battling regime forces on a new front in a bid to break a months-long deadlock.
Booms of shelling and rocket fire echoed from the front lines, centered around the town of Bir Ghanam, where the rebel force backed by tanks fought Gaddafi's troops throughout the day.
A small settlement in the desert, Bir al-Ghanam is the closest point the rebels have come to Muammar Gaddafi's stronghold in the capital, lending it a strategic role in the rebels' six-month campaign to end Gaddafi's rule.
Rebel commanders in the region said they had seized control of the town in an offensive in which four anti-Gaddafi fighters were killed.
However, the Libyan government said that rebels have entered the town but were driven out after a few hours.
It was not immediately possible to verify who was in control of Bir al-Ghanam.
Taking the town would break weeks of stalemate during which rebels have been unable to make big advances despite NATO air strikes on government forces.
Rebel commanders said in the past 24 hours they had, in fact, pushed about 10 km northeast of Bir al-Ghanam, and were now planning to push towards the coastal town of Zawiyah, which lies 50 km west of Tripoli.
Britain said on Saturday its aircraft had been in the area and attacked two ammunitions stores, a military headquarters and a position supporting government rocket launchers.
For now, there is no sign of a let-up in the NATO air campaign, led by French and British warplanes.
Reports also said there were multiple strikes overnight in the southeast of Tripoli.
Editor:Liu Fang |Source: CNTV.CN