Watch Video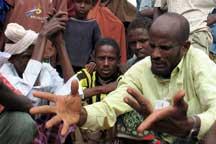 Play Video
Fearful Somalis have begun to move away from a camp near the capital, Mogadishu, a day after 10 Somalis were killed during a firefight between troops and residents over looted truckloads of food meant for famine victims.
Government troops opened fire and unloaded aid into wheelbarrows and minibuses after an aid organisation began distributing the food to refugees.
Some of the capital's residents also carried away food in the ensuing chaos.
The incident highlighted the dangers facing aid groups struggling to operate in the country.
At Badbaado camp where the looting occurred, displaced people say they now want to move away.
Adan Isak, displaced person, said, "We were advised to come and live in this camp as food aid was guaranteed but after arriving, we saw our food aid being looted and I do not feel secure and I am moving out."
The UN World Food Program confirmed the incident at Badbaado, a makeshift camp that is home to some 30,000 refugees.
In Somalia, anyone wearing military uniform is trusted, but little did they know they had a hidden agenda.
Fatima Ali, displaced woman, said, "I saw armed men wearing transitional government soldier's uniforms who came to the camp and we thought they were going to guard the camp as we received our rations, but they were here to loot the same food we were waiting to receive from the trucks."
Stolen aid often ends up for sale in marketplaces or in the hands of militants.
Some 3.7 million Somalis are currently at risk of starvation, prompting hundreds of thousands to make the dangerous trek to Mogadishu in search of food.
About 100,000 refugees have reached the capital in the last two months and hundreds more are streaming into the city every day, risking threats of attack by Islamist militants.
Editor:Liu Fang |Source: CNTV.CN