Watch Video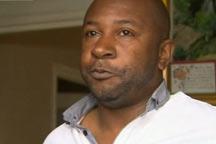 Play Video
Sporadic rioting and looting has continued in several parts of London over the last 5 days. The violence was triggered by the shooting by police of 29 year old Mark Duggan last Thursday. Duggan's brother has been speaking to the media, and Jiang Nan can tell us more.
It's the first time a member of Mark Duggan's family has spoken in public about the shooting, and the ensuing protest, which descended into violence.
Shaun Hall, Mark's brother, called on the community in Tottenham to try and control their anger.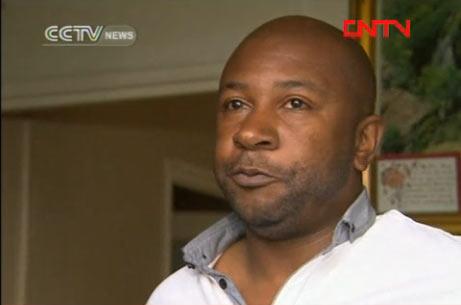 Shaun Hall, Brother of Mark Duggan
Shaun Hall, Brother of Mark Duggan said "I know people are frustrated, they're angry out there at the moment, but I would say please try hold it down. Please don't make this bearing on my brother's life, my brother was a good man."
On saturday, rioters torched several vehicles and looted shops. Twenty-six police officers were injured, with eight of them briefly hospitalized.
The protest had initially been peaceful. But it turned ugly when between 300 and 500 people gathered at Tottenham's police station.
Some attempted to storm the station, throwing petrol bombs and using makeshift weapons, including baseball bats and bars.
Shaun Hall said "We're not condoning any kind of actions like that at all, for this to be taken in my brother's name. I've been listening to a lot of the news today, where it seems to be the press who are generally saying that it is linked to my brother,"
Within hours of the initial protest, police in riot gear and on horseback were clashing with hundreds of rioters.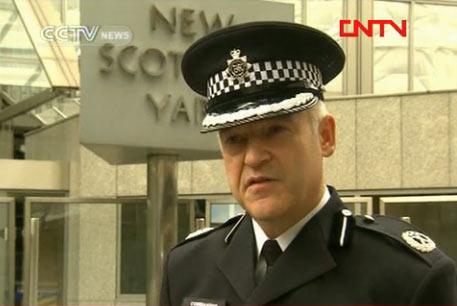 Commander Adrian Hanstock, Metropolitan Police
Commander Adrian Hanstock, Metropolitan Police said "This level of violence escalated beyond all proportion. What was a peaceful vigil by a grieving family was hijacked by mindless criminal thugs who set fire to police cars, who damaged local businesses, who destroyed people's homes. I don't think anybody could have foreseen that such a peaceful and proper protest vigil would evolve into something like this. Once we saw that situation develop, we deployed people appropriately and eventually took control this morning in the early hours. Today is about restoring calm and bringing peace back to Tottenham."
On Sunday, the streets were littered with bricks and overturned scorched refuse bins.
Two police helicopters hovered over the burnt-out buildings as residents inspected the damage and firefighters doused the last of the flames.
Many in the neighborhood no longer feel safe.
Alex Parades, Tottenham resident said "This is insane you know. I never think this can happen for me or my life. I know this place was a bad, bad place to live."
This past 5 days is a stark reminder to many residents of the riots that occurred three decades ago, in both Tottenham and other parts of inner London. It may also be a reflection of worsening economic times.
The burnt out buildings can be repaired. It's now up to the police, and local residents to work together to rebuild trust, in order to rebuild their communities.
Editor:Xiong Qu |Source: CNTV.CN