Watch Video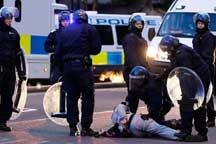 Play Video
After so much destruction in London, many people in the capital have been asking why young people are taking to the streets in such large numbers and engaging in such violence. But other voices are also coming to the fore, with communities of volunteers springing up to try to clean up the damage.
They came armed with broomsticks and good intentions, volunteers gathered together by social networking sites to help clean up London's scarred streets.
Katie O'Hanlan, volunteer, said, "Just because last night was so horrible, I wanted to take part and make things better for London."
The helpers did what they could but being active crime scenes meant many sites were still in lockdown.
Perhaps surprisingly those who had come out to help were sympathetic to the rioters that had caused the destruction.
A volunteer said, "I totally understand what's brought this on, you can see that young people are disenfranchised, disappointed and angry and they don't have any examples of positive stuff they can do. So this is what's happening and they're copying each other."
"Opportunity lacking, I think a lot of things are being shut down, community projects being shut down," said a volunteer.
Facilities being cut or struggling to survive as local councils are forced to slash their budgets include this boxing club in North London. It has 800 members, 300 of which are children.
The club could run day-time programs for them during school holidays if it had the funding.
Lenny Hagland, Islington Boys Club, said, "Whether it be boxing, whether it be football, whether it be judo or martial arts, they are looking for something to do and there's not enough places to do it and it calls back down to funding. Funding these places, none of these places are getting enough funding to run."
Which means a charge many may not be able to afford.
Some of the young members live locally, in social housing and face the challenges of those across the city, of youth unemployment, cuts to educational grants and the closure of recreational facilities.
Lenny Hagland said, "There is problems out there, if we can engage these young people into something positive, then maybe we can keep them away from doing these riots. It's a sad fact that these riots are happening in areas that can't really afford to have them."
Youth workers say it's clubs like this one that are the key to getting and keeping young people off the streets, but with funding cuts only just beginning to bite, the future for many clubs is bleak.
Editor:Liu Fang |Source: CNTV.CN