Watch Video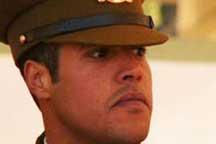 Play Video
Libyan state television has broadcast what it said was footage of leader Muammar Gaddafi's youngest son Khamis filmed on Tuesday. He was shown visiting injured people in hospital in Tripoli.
If genuine, it would be his first public appearance since rebels claimed he had been killed in a NATO air-strike in the city of Zlitan.
Libya's Deputy Foreign Minister Khaled Kaim denied those claims and said reports of Khamis's death were "blatant lies". He also said the rebels spread reports of Khamis's death to distract attention from the killing of the military chief Abdel-Fattah Younis last month.
Editor:Liu Fang |Source: CNTV.CN