Watch Video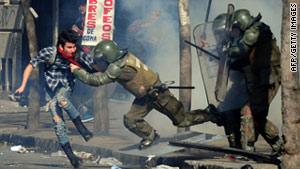 Play Video
In Chile, tens of thousands of protesting students marched through the streets of the nation's capital, Santiago, Tuesday demanding better quality education and lower tuition. The protests began peacefully but as the march continued demonstrators started fires, attacked the police and wielded pots and pans in a traditional Latin American protest.
Law enforcement authorities say that an estimated 60,000 people joined in the afternoon protest, with 273 demonstrators arrested and 23 police officers injured. The protests are the latest unrest against an increasingly unpopular president Sebastian Pinera. The Chilean president sought to defuse the tense situation last month by proposing a $4 billion fund for higher education in addition to reforms such as guaranteeing education as a constitutional right. Students however, say that's simply not enough.
High school student Felpe Suarez said, "These days, what we are receiving now in education is nothing compared to other countries. We just want quality education for our generation and we want it all to be fixed at the national level."
Related stories
Editor:Zhang Jingya |Source: CNTV.CN