Watch Video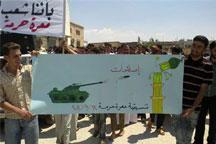 Play Video
Activists say Syrian gunboats have fired light artillery on Latakia, killing at least 19 people in the Mediterranean coastal city. But Syria's official news agency denied the charges.
Activists also say ground troops backed by tanks and security agents have stormed several neighborhoods in Latakia. The intense operations in the city aim to root out protesters demanding the ouster of President Bashar Assad.
Activists say most of those killed have been unarmed civilians. Also on Sunday, the Syrian Arab News Agency denied that government gunboats pounded the city. The agency said law-enforcement members are hunting down armed men who are terrorizing people and firing machine guns from rooftops.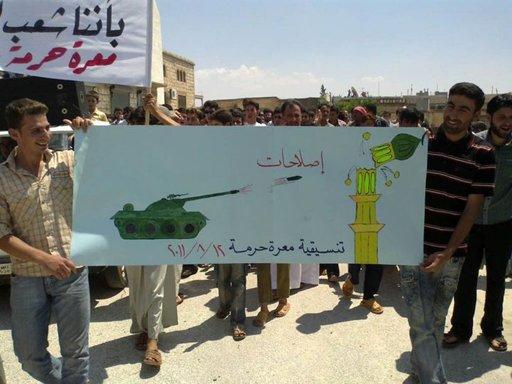 In this citizen journalism image made on a mobile phone and provided by Shaam News Network, Anti-Syrian President Bashar Assad protesters hold up a banner depicting a Syrian tank shelling a mosque with Arabic words reading:"Reform," during a demonstration against the Syrian regime, at Maarat Harma village, in Edlib province, northen Syria, on Friday Aug. 12, 2011. (AP Photo/Shaam News Network)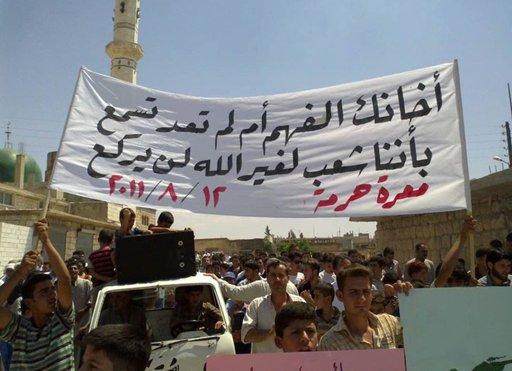 In this citizen journalism image made on a mobile phone and provided by Shaam News Network, anti-Syrian President Bashar Assad protesters hold up an Arabic banner read:"Didn't you understand or have you stopped listening that we are a people who will bow only to God," during a demonstration against the Syrian regime, at Maarat Harma village, in Edlib province, northern Syria, on Friday Aug. 12, 2011. (AP Photo/Shaam News Network)
Editor:Li Wanran |Source: CNTV.CN