Watch Video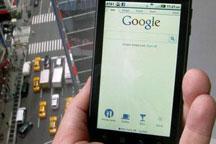 Play Video
Google has announced that it will buy Motorola Mobility for about 12. 5 billion US dollars, the largest acquisition by the Internet search giant. The take-over will allow it to compete more directly with other mobile phone makers in the fast growing market.
It was a colossal deal that shook Wall Street.
Google says it will acquire Motorola Mobility for 40 dollars per share in cash, or about 12.5 billion dollars, a premium of 63 percent to the closing price of cell phone maker's shares last Friday.
A posed picture shows a Motorola Droid phone displaying the Google search page in New York
August 15, 2011. Google Inc will buy phone hardware maker Motorola Mobility Holdings Inc
for $12.5 billion to bolster adoption of its Android mobile software and compete with
smartphone rival Apple Inc. In its biggest deal to date, Google said it would pay $40 per
share in cash, a 63 percent premium to Motorola Mobility's Friday closing price on the New
York Stock Exchange. [Photo/Agencies]
The transaction was unanimously approved by the boards of directors of both companies and is expected to be final by the end of 2011 or early 2012, after getting approval FROM regulators in the US and Europe.
Besides being by far the largest deal that Google has ever proposed, buying Motorola would push the company into the hardware business, giving it the ability to manufacture its own phones and computer tablets for the first time. The deal will also give Goggle access to lucrative patents and key technology.
But the deal hasn't come without criticism, as many have pointed out the risks of alienating other device makers that depend on Google's Android operating system.
But Google has vowed that Android will remain an open system, adding that it will run Motorola Mobility as a separate business.
The proposed deal also is likely to increase government scrutiny on Google at a time when antitrust regulators in the US and Europe are already parsing its business practices to determine whether it has been abusing its power to stifle competition.
Analysts see the deal primarily as a way for Google to protect and build up its mobile phone business but questions if it would continue manufacturing handsets in the long term.
According to Gartner data, Android dominated the smartphone market with a 43.4 percent share at the end of the second quarter, ahead of Nokia's 22 percent. Apple ranked third with 18 percent.
RELATED:
Google to buy Motorola Mobility for $12.5b
Google Inc is paying $12.5 billion to buy Motorola Mobility Holdings Inc in its biggest-ever deal, finally securing a swathe of valuable mobile patents to ramp up a war with Apple Inc and other rivals...SEE FULL STORY>>>
Editor:Zou Xian |Source: CNTV.CN