Watch Video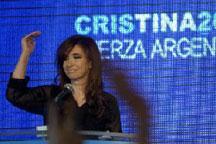 Play Video
Argentina's President Cristina Fernandez looks set to win a second term in October after thrashing rivals in a primary election on Sunday. Despite the win, many challenges remain for the incumbent, including high inflation and large government debts.
With nearly 97 percent of polling stations counted, Fernandez has just over 50 percent of the vote, 38 points ahead of both centrist opposition congressman Ricardo Alfonsin and former President Eduardo Duhalde.
The results show Fernandez on track for a first-round win on October 23.
Fifty-eight-year-old Fernandez won strong support in urban and rural areas, and has a wide lead in opinion polls.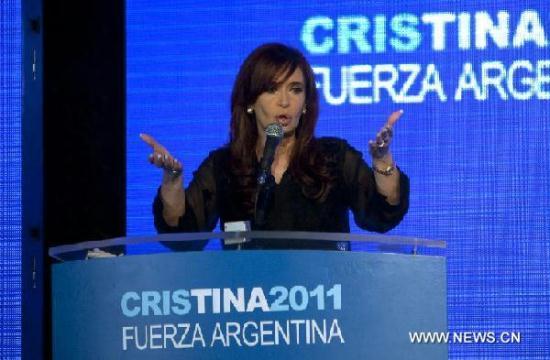 Argentine President Cristina Fernandez speaks after hearing the first results of the
nationwide primary election in Buenos Aires of Argentina, Aug. 14, 2011. Argentine
President Cristina Fernandez on Sunday won the primary elections against the opposition.
According to the exit polls, Fernandez got 42 percent of the votes, while the second most
popular candidate, former President Eduardo Duhalde, gained over 16 percent. (Xinhua/Martin
Zabala)
Cristina Fernandez, Argentine President said, "I call on everyone to think about the big picture, to be united. The world is in difficulty, but if we manage to get over our differences, and we manage to move beyond debates that have already been resolved and most importantly if we listen to the people at the voting stalls we can learn to make fewer mistakes."
Fernandez needs to capture 45 percent of the vote in October to win re-election outright. She could also avoid a run-off if she secures 40 percent of the vote plus a 10-point lead over the runner-up.
Fernandez's two main opponents, Alfonsin and Duhalde, fared worse than expected, polling only around 12 percent each. The law prohibits them from forming an alliance.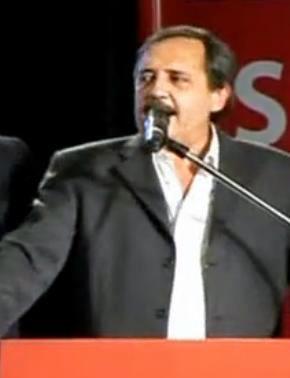 Ricardo Alfonsin during speech.
Ricardo Alfonsin, Argentine Presidental Candidate said, "We are prepared for October 23 and we can say that we are in the second round, and winning in the second round."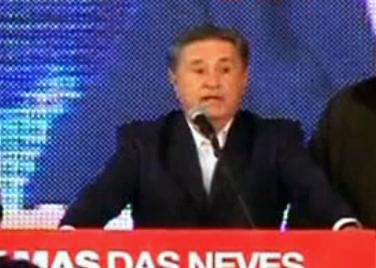 Eduardo Duhalde during speech.
Candidate Eduardo Duhalde said, "It has been a very good election for the president and I congratulate her. And I think that we are going to have a clear run in the second round in October."
Latin America's third-largest economy is booming, but Fernandez faces major challenges.
She will have to tame high inflation, estimated at around 25 percent, without hurting growth and cutting spending. She must also find a way to repay debt without draining central bank reserves.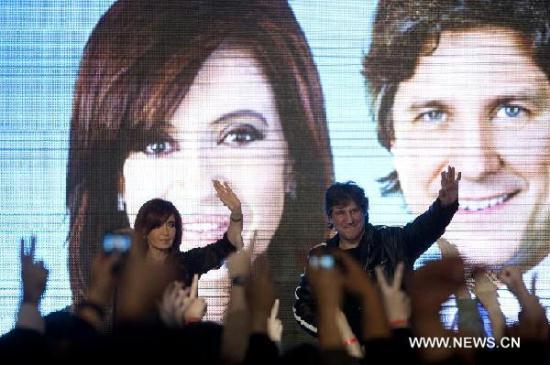 Argentine President Cristina Fernandez (L) waves to supporters after hearing the first
results of the nationwide primary election in Buenos Aires of Argentina, Aug. 14, 2011.
Argentine President Cristina Fernandez on Sunday won the primary elections against the
opposition. According to the exit polls, Fernandez got 42 percent of the votes, while the
second most popular candidate, former President Eduardo Duhalde, gained over 16 percent.
(Xinhua/Martin Zabala)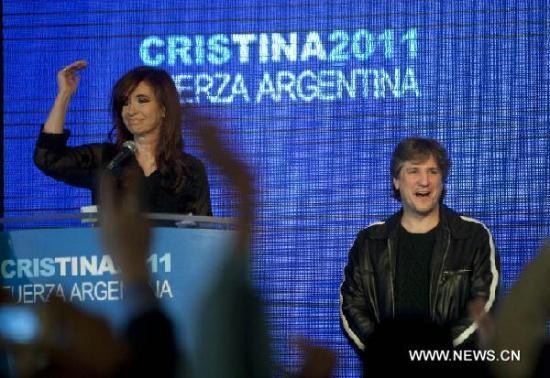 Argentine President Cristina Fernandez (L) speaks after hearing the first results of the
nationwide primary election in Buenos Aires of Argentina, Aug. 14, 2011. Argentine
President Cristina Fernandez on Sunday won the primary elections against the opposition.
According to the exit polls, Fernandez got 42 percent of the votes, while the second most
popular candidate, former President Eduardo Duhalde, gained over 16 percent. (Xinhua/Martin
Zabala)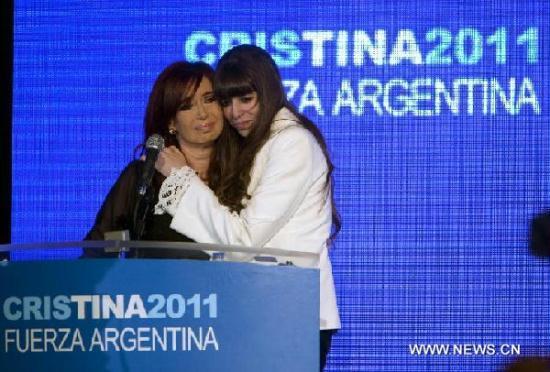 Argentine President Cristina Fernandez is embraced by her daughter Florencia after hearing
the first results of the nationwide primary election in Buenos Aires of Argentina, Aug. 14,
2011. Argentine President Cristina Fernandez on Sunday won the primary elections against
the opposition. According to the exit polls, Fernandez got 42 percent of the votes, while
the second most popular candidate, former President Eduardo Duhalde, gained over 16
percent. (Xinhua/Martin Zabala)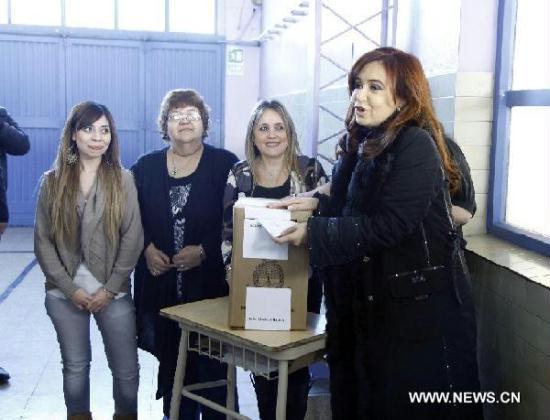 Argentine President Cristina Fernandez (1st R) casts her vote at a polling station during
the primary election in Rio Gallegos, Argentina, on Aug. 14, 2011. Argentina held a primary
election on Sunday for the presidential elections in October. (Xinhua/Telam)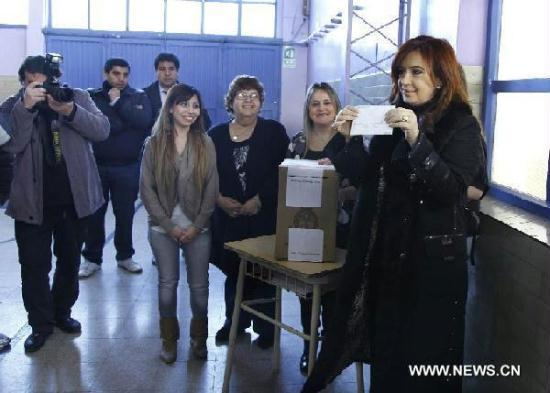 Argentine President Cristina Fernandez (1st R) casts her vote at a polling station during
the primary election in Rio Gallegos, Argentina, on Aug. 14, 2011. Argentina held a primary
election on Sunday for the presidential elections in October. (Xinhua/Telam)
Editor:Zou Xian |Source: CNTV.CN