Watch Video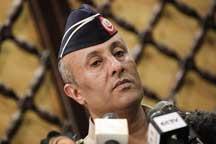 Play Video
According to a spokesman for the Libyan rebel's, their next move will be to attack Tripoli. The spokesman has marked the areas Libya's government holds with green pins on a map in his office, and marked the rebel-held areas with red pins. He said he is running out of red pins.
Col. Ahmed Omar Bani, spokesman fo Libyan rebel's military, said, "Right now we are here, we are also blocking. our troops are still here. I think it's impossible for Gaddafi to win. There's even no way for him to escape."
Colonel Ahmed Omar Bani said besides Zawiya, they've also taken 4 to 5 smaller towns around Zawiya, which has further secured their progress. He couldn't give out the exact date when the rebels will launch attacks on Tripoli, since they need time to be fully prepared for the battle.
Bani stated that there may not be a brutal fight in Tripoli, since not all the people inside the city support Gaddafi.
Editor:Liu Fang |Source: CNTV.CN