Watch Video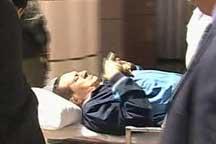 Play Video
Egypt's Former President Hosni Mubarak was back in court on Monday for the second day of his trial. Mubarak is accused of ordering the killing of protesters in January.
Hundreds gathered out side the police academy to witness the second session of Mubarak's trial.
There were two groups of people, Mubarak's supporters who seemed organized. They came with posters and printed T-shirts saying "I am Egyptian I don't insult the Nations's leader."
A Mubarak supporter said, "we came here today to support mohamed Hosny Mubarak's the Egyptian citizen not the president. I am sure that there has been a conspiracy to put him away from power."
On the other side Martyrs' families stood along with those against the former president. It was like a small protest in Tahrir squares with people selling hats and flags. And a retaliation plan.
Mohamed Goumaa, victim's brother, said, "I want a revolution court, as Mubarak's gave orders to kill protesters, the people must give an order to sentence Mubarak to death. He should be hanged in Tahrir square. He should die without spilling a single drop of his blood. It would contaminate Tahrir square."
As Mubarak and his sons appeared behind bars, clashes started. The side against Mubarak stared throwing stones on the other side, from people who seemed to be thugs. Shortly it was chaos and tens were injured.
Inside the court once again the civil rights lawyers were not organized. After several hours of hearing the lawyers demands; the judge decided to rejoin Mubarak and interior ministry leaders in one case that involve killing civilians. This case will be continued on the 5th of September.
He also separated the charges of Abusing power and exporting natural gas to Israel in another trial. Mubark's sons Gamal and Alaa will join the former President in this case.
Abu Mohamed, victim's father, said, "We were expecting that the trial will be postponed, there are many witnesses and evidence to be covered, the judge will not give a sentence right away"
Um Khaled, victim's mother, said, "In January both my sons went to protest, my elder son returned as dead body,with shots in his hearts and his clothes covered in blood. I will not let go those who shed his blood. I come here just to feel that I am near those who killed my son. Since they are not letting me inside the court."
The people demand the cleansing of the judicial system, this is what these people. Martyrs families are calling for, after the judge announced that there will no longer be a live broadcast of Mubarak's trial and his associates, they want either to attend the trial themselves or stand beside a screen and grief for their lost ones. Adel EL Mahrouky CCTV, Cairo."(OUT)
Editor:Liu Fang |Source: CNTV.CN