Watch Video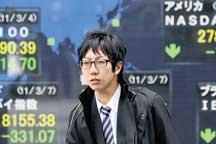 Play Video
Asian stock markets rose on Tuesday, after Wall Street shares climbed for the third straight session on Monday. This was inspired by takeover news and better-than-expected Japanese data after a torrid July and August.
Japan's Nikkei share average was up more than half a percent, gaining 0.3 percent to 9,116.33, while the broader Topix advanced 0.5 percent to 780.76. The Nikkei has shed 7.6 percent since the beginning of August and is 6 percent below its 25-day moving average of 9,656.06.
South Korea's KOSPI stock index jumped 4 percent in early trade. The index had lost around 14 percent over the past two weeks. Shares drew succour from news that Google has offered to buy Motorola Mobility Holdings Inc for about $12.5 billion, and that Japan's economy shrank less than anticipated in the second quarter.
Hong Kong shares extended gains on Tuesday, with oil producers rising after crude oil prices gained sharply overnight. The Hang Seng index opened up 0.4 percent at 20,344.8.
The China Enterprises Index opened up 0.31 percent. China's benchmark stock index changed little on Tuesday, as the global market showed signs of stabilizing after weeks of volatile movements. The Shanghai Composite Index opened up at 2,627.9 points, after a 1.3 percent rise on Monday.
Taiwan stocks rose 0.86 percent, with smartphone maker HTC trading higher after Google Inc's proposed bid to acquire Motorola Mobility. The main TAIEX index opened up 67.54 points at 7,886.93, extending gains from a 2.39 percent rally in prior session. HTC jumped 2.66 percent minutes into trading, boosting electronics shares 0.92 percent higher.
Editor:Liu Fang |Source: CNTV.CN