Watch Video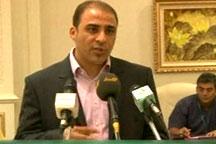 Play Video
Libyan rebels claim they've seized the second strategic town Garyan to the south of Tripoli, just a day after they hoisted their flag in the center of Zawiyah. But the Libyan government has denied losing any ground, saying it is still controlling all the towns surrounding the capital.
Zawiyah to the west, Garyan to the south. Rebels believe they are completing their siege of the capital.
On this map, green pins showcase areas held by government forces, and red for the rebels. The Opposition spokesman says he's running out of red pins.
Col. Ahmed Omar Bani, Spokesman of Libyan Rebel Military, said, "Right now we are here...we are also blocking... our troops are still here... I think it's impossible for Gaddafi to win. There's even no way for him to escape."
The Colonel says they have also taken 4 to 5 smaller towns around Zawiya. It has further secured their progress.
But the Libyan government says all the towns around Tripoli are still under its control.
Moussa Ibrahim, Spokesman of Libyan Government, said, "In Garyan, there are still armed gangs inside the city, but with the support of the armed forces, the people of the city and tribes around the city, the armed gangs were dealt with and they fled from Garyan. But there are still some of those people inside the city, they were waiting for this opportunity to come out and cause disorder."
Meanwhile, a US defense official says that Libyan government forces have fired a Scud missile for the first time since the crisis began 6-months ago.
It was launched from near the coastal city of Sirte and aimed at rebel-held Brega, but landed harmlessly in the desert.
Editor:Zheng Limin |Source: CNTV.CN