Watch Video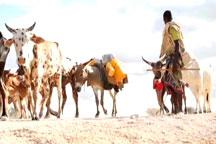 Play Video
The severe drought crippling the Horn of Africa has forced many herdsmen to sell their animals and abandon their traditional way of life. But as Okwi Okoh reports, a Kenyan project has thrown herdsmen a lifeline by helping them turn their hand to farming.
This, is a common sight in the Horn of Africa, a herd of cattle, sheep, goats or even camels being led in search of pasture and water. But many parts of the region have had no rain for several years, so much of the grass and most of the watering points here have dried up.
And when that happens, human suffering quickly follows. The pastoralists that have criss-crossed this region for centuries depend on their flocks for milk, meat and money. The death of their animals easily puts them at risk of facing a similar fate.
Herdsman said, "We've been completely devastated by the drought. Some people have lost everything, others only have a few animals left. The lucky few have camels, but cattle and goats are badly affected and we're trying to sell them because we can't take care of them."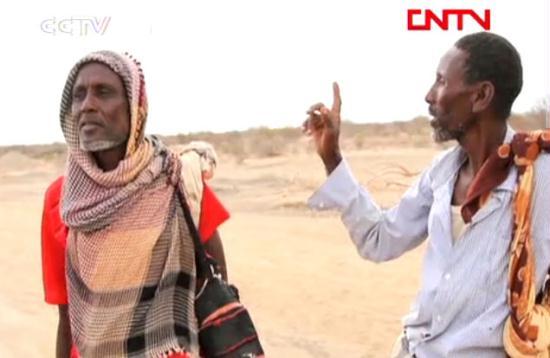 The severe drought crippling the Horn of Africa has forced many herdsmen to sell their animals and abandon their traditional way of life.
Related stories
The current drought has put over 12 million people in Somalia and parts of Kenya, Ethiopia and Djibouti in urgent need of food aid. Hundreds of thousands of Somalis, the most affected, are camped here at the Dadaab Refugee Camp in Kenya. But despite the efforts of aid agencies and supporting governments, the food, shelter and medicine just isn't enough to go around.
"If I compare the situation of where I was to here, it's only slightly better." Somali Refugee said.
Sadly, much of the hunger and economic loss being encountered by people here can be averted with proper investment and planning.
Okwi Okoh, Garissa, Kenya, said, "This is the Tana River. It flows for about 700 kilometers into the Indian Ocean, its Kenya's longest. At this point in the river, I'm just 80 kilometers away from the Dadaab Refugee Camp, but the lack of infrastructure and development for this part of the country, means that the potential of this river to feed people and provide them with an income has never been fully tapped, and it leaves them vulnerable to the effects of climate change."
A project to use the Tana River to fight drought is already reaping rewards. A few years ago FAO, the UN's Food and Agriculture Organization and other agencies teamed up with the Kenyan government to try and change the fortunes of the people that inhabit this semi-arid region.
Funds were provided to rehabilitate a canal from the river, set up irrigation infrastructure, supply inputs like seeds and fertilizer and train pastoralists who were willing to give farming a try.
Maka Abdullahi and her family are among about 120 others who answered the call. She grows rice and fodder for her livestock on a quarter of an acre using water from River Tana.
Maka Abdullahi, Rice Farmer, said, "This project has given us a lot of hope. We were very desperate,but now the farm gives us grass and rice."
After some false starts, the farmers are now producing about 150 kilograms of rice per acre and officials say that's barely scratching the surface.
Farah Tube, Kenyan Agriculture Ministry, said, "So far the land under irrigation is less than 3000 hectares and we have a potential in Garissa of 24,000 hectares, that means if we go to 10,000 hectares that will be a very leap."
Abdi Ahmed, UN FAO, said, "This kind of intervention is proving to be cheap and very effective and the result is very immediate, within four months the farmers are able to harvest and get the crop."
The harvest is processed here at a mill that was also provided for the farmers. Whatever isn't eaten by the community of nomadsturned-farmers is sold on the open market. The waste is fed to their livestock.
Plans are in place to help the farmers market and package their surplus for sale in other parts of Kenya, and if that works then this rare green patch in the Horn of Africa could serve as a tried-and tested model for other areas.
Editor:Zheng Limin |Source: CNTV.CN