Watch Video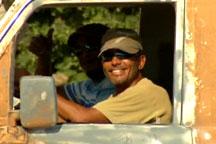 Play Video
Six months ago, on the 17th February, rebel troops liberated the city of Benghazi in Eastern Libya from Government control. Although rebel advances have slowed down, recent successes to the South and West this week have left the capital Tripoli isolated. The National Transitional Council now says it hopes to claim victory within the month. That would leave the NTC in full control of the country, but as Tony Cheng reports from Benghazi, their victory could just be the beginning of a very difficult road.
Six months ago, this was a stronghold for the Gadaffi family…
Today, the palace in Benghazi lies in ruins…
After a short, but vicious fight, the rebels claimed it as their own.
Six months on, the looters have stripped everything…others wander through to see what was forbidden for so long.
These are the men in control today…
The rebel army of Libya's National Transitional Council.
Their victory on the 17th of February marked on billboards around the city…
(Upsot General)…In the last few days, more recent rebel victories have isolated Colnel Gadaffi's forces in the capital…
Cut off to the South and the West from supplies and fuel.
They say, god willing, they will be in Tripoli by the end of the month.
But is there any evidence that paradise?
The National transitional Council is now governing the parts of Libya under rebel control….
Their goal so far has been to force Gadaffi from power, and while that looks increasingly likely, many are asking what next.
The murder of General Abdul Fatah Younis was a considerable setback.
Already posters around the city claim his tribe supports the rebels, but its an open secret large splits exist within the NTC.
This bank was doing brisk business, although security was tight.
Limits have been placed on the amount that people can withdraw, to stop the local economy from crashing…
The race is on, to get their money out.
Other basic services can't resume until the fighting stops.
Schools have been shut for half a year…Children on an extended holiday until normality returns.
The teachers have little to do but play chess and wait…but they say they need to get back to work.
The trauma of the fighting is never far away..
Usama Abdulrahman Alsaidi, Principle of Koortuna Primary School, said, "Some have lost relatives, others fathers or brothers…this has affected the children a lot…but some schools have been able to start activities to distract them from their troubles"
And as he continues...
A burst of gunfire just outside…this is now just part of everyday life...
But in the evening, as people emerge after breaking the Ramadan fast, a glimpse of better times.
Customers venturing out to the shops...
Groups of men huddled in the coffee shops, discussing the events of the day...
Editor:Zheng Limin |Source: CNTV.CN