Watch Video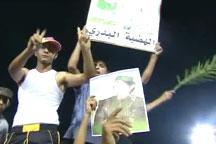 Play Video
As rebel fighters close in on Tripoli, they are slowly cutting-off the capital from the outside world. Under siege, tension grows higher among Tripoli's residents.
Tripoli is preparing for the worst.
On Saturday, rebels occupied the city of Zawiya, 50 kilometers to the west. They've blocked the road to Tunisia, Tripoli's pipeline for imported food, smuggled petrol, and other goods.
Abdul Walood Al-Wali, Tripoli Shop Owner, said, "The conditions we are in now, we have an air blockade and they are closing all the exits of the country. The stock that we have will run out, we are running out of everything."
While Gaddafi forces are fighting to reclaim the city, rebels are cheering their capture of areas to the south.
Tripoli is now surrounded by rebels on three sides and the Mediterranean to the north. The city's sudden isolation from its western neighbor adds pressure.
Ahmed Abdul, Tripoli Ship Owner, said, "The problems going on now cause a lot of shortages specially supplies for labor. We are in a war situation; it's not a soccer game."
The International Committee of the Red Cross has said the sanctions are causing problems in water supply and warns it could soon prompt serious health problems.
Rising tensions have prompted stronger security measures. Police at numerous checkpoints take special care to scrutinize young men.
Despite the squeeze, many Tripoli residents still come out every night to show their support for their leader who's ruled the country for 4 decades.
Editor:Zheng Limin |Source: CNTV.CN