Watch Video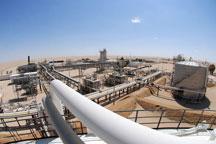 Play Video
Some have wondered why the humanitarian crises in Egypt, Syria, Tunisia, and Yemen did not spark the international response that Libya did. The answer can partly be attributed to the fact that the country possesses the largest oil reserves in Africa.
This is a country four times the size of Iraq, and rich in oil. It accounted for 2 percent of the world's oil output before the unrest began, at a rate of 1.8 million barrels a day.
A reservoir the equivalent of 44 billion barrels sits beneath its desert landscape. It yields crude that is light and sweet and can be refined into diesel and petrol easily. It's also low in sulfur, making it cleaner to burn.
OPEC, of which Libya is a member, has enough reserves to replace Libya's lost production during the crisis. But the quality is mostly inferior. While lighter, sweeter grades are generally sold to Europe, the heavier crude oils are often exported to Asian markets.
More than 50 international oil companies are present in the Libyan market in conjunction with subsidiaries of the Libyan National Oil Corporation.
Companies that win exploration contracts are determined based on how high a share of production a company is willing to offer the NOC. In addition, oilfield developers initially bear 100 percent of the costs for a 5-year minimum, while the NOC retains exclusive ownership. Many major players have formed joint ventures with the NOC.
Editor:Zhang Dan |Source: CNTV.CN