Watch Video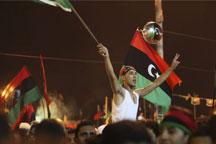 Play Video
Thousands of people are celebrating in Benghazi after rebels entered the central square of Tripoli. Many Libyans believe this could be the end of the Gaddafi regime and the start of a new era. Our corespondent Tony Cheng, who is in Benghazi, tells us the story.
Citizens of Benghazi, Libya's rebel stronghold, spill out on the streets to celebrate the victories of the last 24 hours.
Their troops have made considerable gains, and Tripoli seems to be in their grasp.
A local resident in Benghazi said, "40 years, he has killed many people."
A local resident in Benghazi said, "We are very, very happy."
Young and Old, men and women, they had all come out.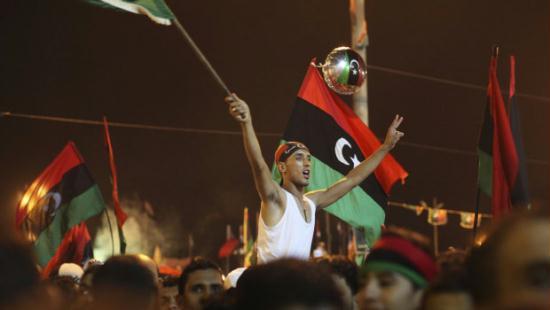 People celebrate the recent news of uprising in Tripoli against Muammar Qaddafi's regime, at the rebel-held town of Benghazi, Libya, early Sunday, Aug. 21, 2011. (AP Photo)
A moment of reflection for those who have become accustomed to the violence.
After six months of bitter fighting there is a sense here that the end is in sight.
For these men however, still much to be done.
Libya's National Transitional Council, the body that will fill the void after the Gaddafi regime.
Their leader Mustafa Abdul Jalil, faces the task of attempting to limit bloodshed with rebels fighting in the capital.
And they are urging the fighters to treat captives with restraint.
But they say they are ready for the next step.
Hassan Aldroe, NTC member for Sirte said, "The NTC will move to Tripoli."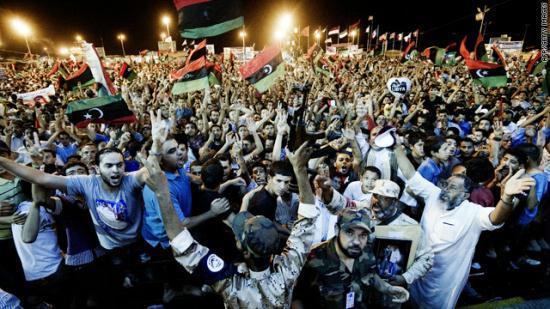 Libyan rebels celebrate in Tripoli - Source: Getty
Elsewhere in Benghazi, a steady flow of containers heading to the ports.
Rebels to the East of Tripoli have been bolstered by new supplies of ammunition…delivered by boat.
This rebel offensive has clearly been co-ordinate much better than those of the past, and NATO control of the seas has given them safe passage to advance.
And a quiet confidence amongst the fighters here.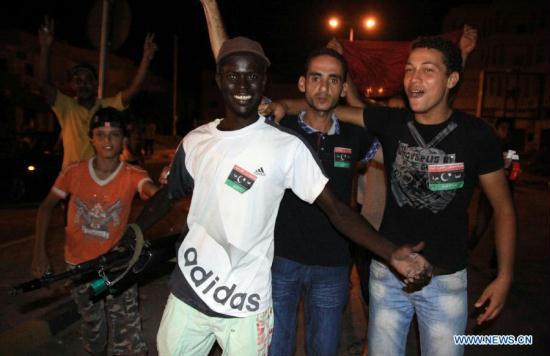 Rebels celebrate the control of the entire area of Tajoura, a suburb of Tripoli, Libya in the early morning on Monday, Aug. 22, 2011. (Xinhua/Hamza Turkia)
Their battle against the Gaddafi regime was won six months ago, but now a feeling that the war could soon be won.
And as night fell news from Tripoli. Rebels were inside the capital, and they were meeting little resistance.
Tonight, Benghazi is filled with the sound of gunfire and explosions. But these are not the sound of war. This is an expression of joy. They've heard much of Tripoli is under rebel control. Most of Gaddafi's family members are under arrest. It's certainly not over yet, but the final act is on its way.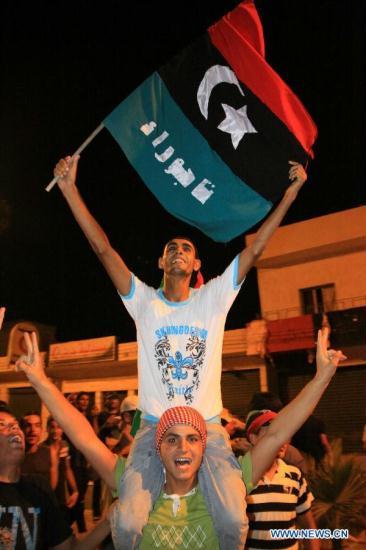 Rebels celebrate the control of the entire area of Tajoura,
a suburb of Tripoli, Libya in the early morning on Monday,
Aug. 22, 2011. (Xinhua/Hamza Turkia)
Editor:Li Wanran |Source: CNTV.CN