Watch Video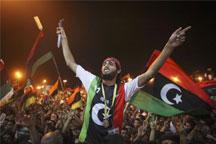 Play Video
Six months of unrest in Libya have seen a series of major events and twists and turns. Let's now take a look at the timeline since protests first broke out in February.
February: SPREADING INSURRECTION & INTERNATIONAL SANCTIONS
Protests against Muammar Gaddafi's regime broke out in Mid February in the eastern city of Benghazi.
As the movement spread, rebels gained control of the eastern area from the border with Egypt to Ajdabiya.
Meanwhile, a defiant Gaddafi vowed to die "a martyr" in Libya and said he would crush any revolt.
From February 26th to 28th, the UN, US and the EU imposed sanctions on Gaddafi's regime, including an arms embargo and travel bans.
March: MILITARY INTERVENTION
On March 5th, the rebel's body, Libya's National Transitional Council, met in Benghazi, declaring itself the sole representative of the North African country.
Twelve days on, the UN Security Council voted to authorize a no-fly zone over Libya. The alliance said it would use "all necessary measures" to protect civilians against Gaddafi's army.
Libyan rebels exchange fire with government troops in downtown Misrata, Libya, April 21, 2011. (Xinhua/Nasser Nouri)
March 19th sees the first air strikes under the UN mandate halt the advance of Gaddafi's forces on Benghazi, while targeting Libya's air defenses.
Three days later, Gaddafi says he will not surrender and tells supporters to form a human shield to protect him.
Benefiting from the coalition's air strikes, rebels then advance westwards, taking several key towns.
A conference on Libya in London sets up a contact group on March 29th to coordinate political efforts. But the coalition is split over whether to arm the rebels.
A couple days after the formation of the contact group, NATO takes the helm of the coalition campaign from the US.
April: DIPLOMATIC MEDIATION & FIGHTING STALEMATE
An African Union delegation met Gaddafi and the rebels for ceasefire talks on April 10th and 11th. The Libyan leader accepted the plan, but the rebels rejected it.
In a meeting in Qatar on April 13th, the "Libya contact group" says the solution to the conflict should be political while proposing material support to the rebels.
Following this, NATO intensified military attacks.
Just over two weeks later, on April 30th, a NATO missile in Tripoli kills Gaddafi's youngest son and three of his grandchildren.
A wounded boy is treated at the Hekma hospital in Misrata, Libya, April 20, 2011. Medical workers said at least ten civilians, including U.S. photographer and British journalist, were killed that day, as fierce clashes occured between rebel fighters and pro-government troops in Misrata. (Xinhua/Nasser Nouri)
MAY: CONTINUING STALEMATE & INTENSIFIED INTERVENTION
The Libya contact group met again on May 5th, this time in Rome. A decision is made to set up a non-military fund to help the rebels.
Eleven days later, the International Criminal Court requests arrest warrants for Gaddafi and his younger son on charges of crimes against humanity.
Meanwhile, NATO airstrikes continue to hit the Libyan capital. The alliance says its bombing campaign in Libya has damaged Gaddafi's ability to attack rebels and has forced the leader into hiding.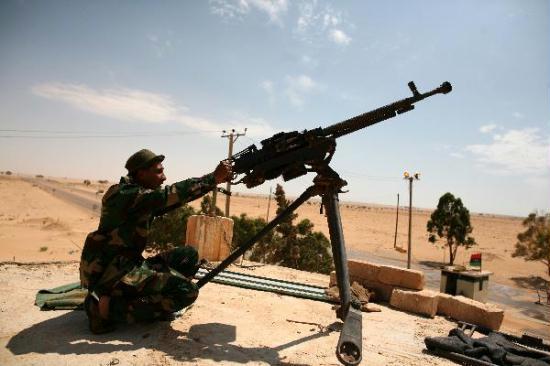 A Libyan rebel fighter takes position in the city of Ajdabiya, eastern Libya, May 10, 2011. According to media sources, NATO forces attacked the Libyan capital Tripoli on Sunday night. The target of the attacks was reportedly the compound where Libyan leader Muammar Gaddafi lives. Meantime, rebels in the western city of Misrata said they had forced back troops loyal to Gaddafi from areas on the edge of the city. (Xinhua/Wissam Nassar)
AUGUST: BREAKTHROUGH & A NEW ERA
Libyan rebels raised their flag over Zawiyah on August 14th. It is a strategic town near Tripoli. Their most dramatic advance in months cut off Muammar Gaddafi's capital from its main link to the outside world.
The swift rebel advance on the town of Zawiyah, about 50 kilometers west of Tripoli, dealt a psychological blow to Gaddafi's supporters and severed the coastal highway to Tunisia which keeps the capital supplied with food and fuel.
Libyan rebels descended on the capital Tripoli on August 21st and reached its center square early the next morning with little resistance. Muammar Gaddafi's defenses seemed to collapse and his rule appeared to be crumbling fast.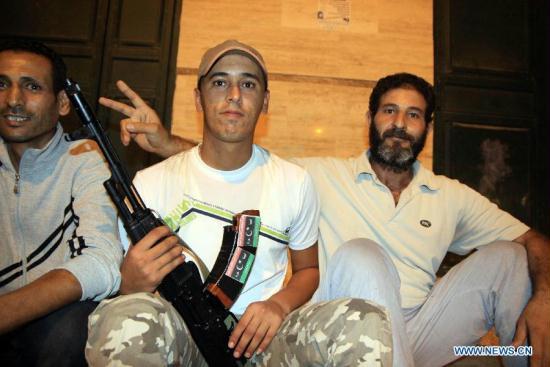 Rebels celebrate the control of the entire area of Tajoura, a suburb of Tripoli, Libya in the early morning on Monday, Aug. 22, 2011. (Xinhua/Hamza Turkia)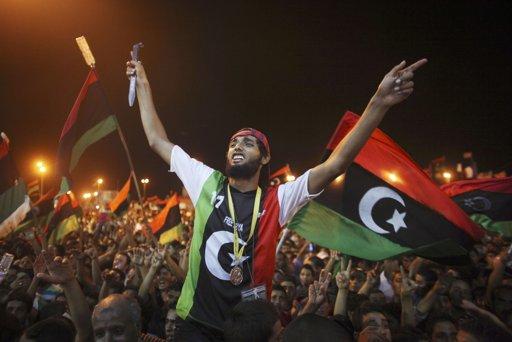 People celebrate the capture in Tripoli of Moammar Gadhafi's son and one-time heir apparent, Seif al-Islam, at the rebel-held town of Benghazi, Libya, early Monday, Aug. 22, 2011. (AP Photo/Alexandre Meneghini)
Editor:Li Wanran |Source: CNTV.CN